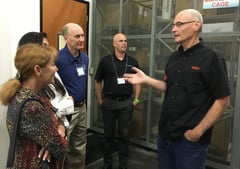 Did you know that the Santa Clarita Valley is home to the world's largest drum head company? In fact, for 50 years, it has lead the way in synthetic drum head and shell development to enhance and expand the possibilities of percussion.
First appeared as far back as 6000 BC, drums may be mankind's oldest instrument. But it was Remo D Belli, a percussion pioneer, who in 1957, invented the first successful synthetic Mylar® drumheads, today's industry standard.
On September 22, a group of board members of the Santa Clarita Valley Economic Development Corporation took a tour of Remo's state-of-the-art facility, guided by Herbie May, the company's Director of Engineering.
Ample Space
A 30-year veteran with the company, Herbie May experienced the move of Remo from its multiple locations in the San Fernando Valley to its current location in the Santa Clarita Valley. "Today, our facility occupies a space of 260,000 square feet, and we have all of our operations under one roof," says May. The large shipping area is also a big plus – shipping containers can have their own space and wait to be filled up before they carry Remo products to more than 160 countries.
Modern Equipment & Machinery
"We make 15,000 drum heads each day," says Herbie May. When considering that they come in different sizes, shapes, types and levels of customization, it is a miracle of modern manufacturing that the whole production site runs with impressive order and efficiency.
The workers are all performing tasks with dexterity and proficiency, interacting with automated equipment and machinery that deliver uniformity and built-in quality control. "We designed and built a lot of these automated equipment ourselves," says May, who mentioned that a lot of the company's knowhow is embedded in the manufacturing process.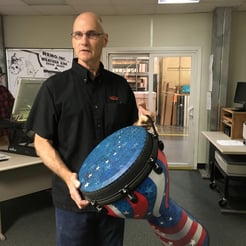 Spirit of Innovation
Remo's success is to a large part driven by its innovative spirit. Take its Versa line as an example. Certain types of drums can be cumbersome to transport from place to place due to their large sizes and irregular shapes. To help solve this problem, Remo launched its Versa line known for its nest-able and portable benefits. At the heart of the design is a proprietary feature that creates an easy, self-sealing fit between the drumhead and drum shell for optimum sound quality. Now, stating a drum circle event does not come with transportation headache.
A Model in Sustainability
During the site tour, we noticed not only the clean and orderly state of the shop floor, but also the environmentally-friendly practices visible all through facility. The company was the first to successfully introduce an alternative to calfskin drumheads and traditional wood drum shells with Remo film processing technology and Acousticon® drum shells, respectively. It has also been recognized for environmentally responsible manufacturing every year since 1998 by winning the WRAP Award. (California Waste Reduction Award Program).
The sustainability idea also extends to jobs: by continuing to manufacture in the USA, the company contributes to the long-term growth of the community while providing jobs to a diverse groups of employees including manufacturing, prototyping, research and engineering, lab testing and customer service.
The Santa Clarita Valley Economic Development Corporation (SCVEDC) is a unique private / public partnership representing the united effort of regional industry and government leaders. The SCVEDC utilizes an integrated approach to attracting, retaining and expanding a diversity of businesses in the Santa Clarita Valley, especially those in key industry clusters, by offering competitive business services and other resources.