15 colleges and universities are within close proximity to the Santa Clarita Valley, home to College of the Canyons, California Institute of the Arts, and The Master's University.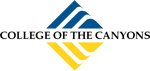 College of the Canyons has been recognized for leadership in correlating education with economic growth, job retention, and workforce development. In addition to meeting the academic needs of students seeking transfer and career technical education, the college also provides cutting-edge training more than 3,600 employees at nearly 1,000 area companies.

Ranked as America's top college for students in the arts by Newsweek/The Daily Beast, California Institute of the Arts has set the pace for educating professional artists since 1970.

The Master's University provides undergraduate and graduate education with a spiritual foundation.