---
Amazonians Welcome Here!
The SCV offers Amazon the space & vision to think big...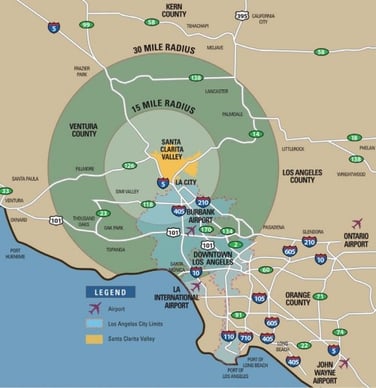 A transformational business like Amazon deserves an extraordinary location. The Santa Clarita Valley and the new community of Newhall Ranch offer the space and the vision to think big.
Amazon changed forever how we shop; Newhall Ranch is transforming how we live and work. Not just any new master-planned community, Newhall Ranch is a landmark sustainable community that's zero-net energy and carbon neutral. Millions of square feet of modern commercial space is taking shape, along with thousands of new homes, but thanks to sweeping investments in energy efficiency, zero-emission vehicles, and green innovations, it will have no impact on climate change. Newhall Ranch is setting a new standard for development and accelerating adoption of new technologies that reduce the impact we have on the environment.
The Santa Clarita Valley is within easy reach of Los Angeles: only 35 miles from downtown LA and 7 miles from its northern border. The fastest-growing community in Los Angeles County, the Santa Clarita Valley is home to a population of nearly 300,000 and the third largest city in LA County, the City of Santa Clarita. This award-winning region is known for its talented workforce, thriving technology sector, top-ranked schools and universities, business-friendly culture, and unrivaled quality of life.
These factors make the Santa Clarita Valley one of Southern California's most desirable communities, with Newhall Ranch raising the bar for what's possible. Newhall Ranch will bring significant new jobs to the region along one of the most dynamic growth corridors in California, and offers an excellent location for Amazon's new headquarters.
By locating within Newhall Ranch in the Santa Clarita Valley, Amazon will redefine what it means to live and work sustainably in the 21st century.
---