Quality of Life
There are countless fun things to do in Santa Clarita! From theme parks and historic house tours to endless outdoor recreation and celebrity sightings, you can fill your days with plenty of fantastic experiences for all ages. Santa Clarita sits perfectly in the middle of all the top Southern California events and excursions.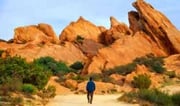 Outdoor Recreation
If you like the great outdoors, you'll love Santa Clarita. This Southern California oasis offers endless opportunities for outdoor recreation – whether you like hiking, bicycling, boating or exploring the natural wonders. Click here to learn more about how to fully experience the natural wonders of Santa Clarita.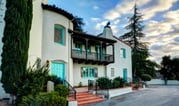 Arts and Culture
Santa Clarita is home to a flourishing arts scene, perfect for anyone seeking a little cultural respite during their Southern California vacation. Three respected live Santa Clarita theaters including the Canyon Theatre Guild, Repertory East Playhouse and the Santa Clarita Performing Arts Center at College of the Canyons. From popular musicians and classic plays to art galleries and historic tours – you'll find all kinds of fun things to do in Southern California. Click here to see the full range of cultural activities and events in Santa Clarita.
Shopping & Dining
Santa Clarita offers a variety of California shopping centers from boutiques to national retailers. There are antique stores, farmer's markets, open-air Santa Clarita shopping malls, street fairs and so much more. Click here to learn more about local shopping opportunities.
Do you like to go out to dinner (or order in)? Choose from fine dining, chef-driven farm-to-table cuisine, family-friendly establishments, and everything in between. Look over our list of the area's amazing dining options. In our corner of Southern California we have something for everyone – whether you prefer authentic Italian, Mexican, Japanese, Chinese or casual fare like deep-dish pizza or burgers and fries. Click here to see different dining options at Santa Clarita.
Special Events
The Santa Clarita Valley offers an impressive calendar of special events each year. The area has played host to everything from PGA Golf Tournaments and the AMGEN Tour of California, to wine festivals and concerts. Click here for the up-to-date events calendar.