Education in Santa Clarita Valley
With an unmatched commitment to preparing the skilled workforce and leaders of tomorrow, the Santa Clarita Valley boasts many exceptional choices for elementary, middle school, high school and higher education.
K-6 Education
With nearly two-thirds of our elementary schools having been named a California Distinguished School at least once, and several being National Blue Ribbon Schools, it is easy to see why companies choose the Santa Clarita Valley as their home. Additionally, Santa Clarita Valley's elementary schools are widely known for their high academic performance index (API) scores, passionate teachers and high level of interaction within the community.
The following Elementary School Districts serve the Santa Clarita Valley: the Newhall School District, the Saugus Union School District, the Sulphur Springs School District, and the Castaic Union School District.
Junior High and High School
The William S. Hart High School District: encompassing six junior high schools and ten high schools, the William S. Hart High School District includes six comprehensive high schools, two continuation schools, a middle college high school, an independent study school and a home school support program. Importantly, more than 90% of Hart District graduates go on to post-secondary education, enrolling in a four-year college or university or a two-year community college, including career technical programs.
The Academy of the Canyons: a part of the William S. Hart Union School District, it offers ninth through twelfth grade school students a unique educational experience that fosters academic and personal success in the high school and college environments. AOC students use transferable college courses to meet and exceed freshman admission requirements especially in foreign language, science, mathematics, and fine arts.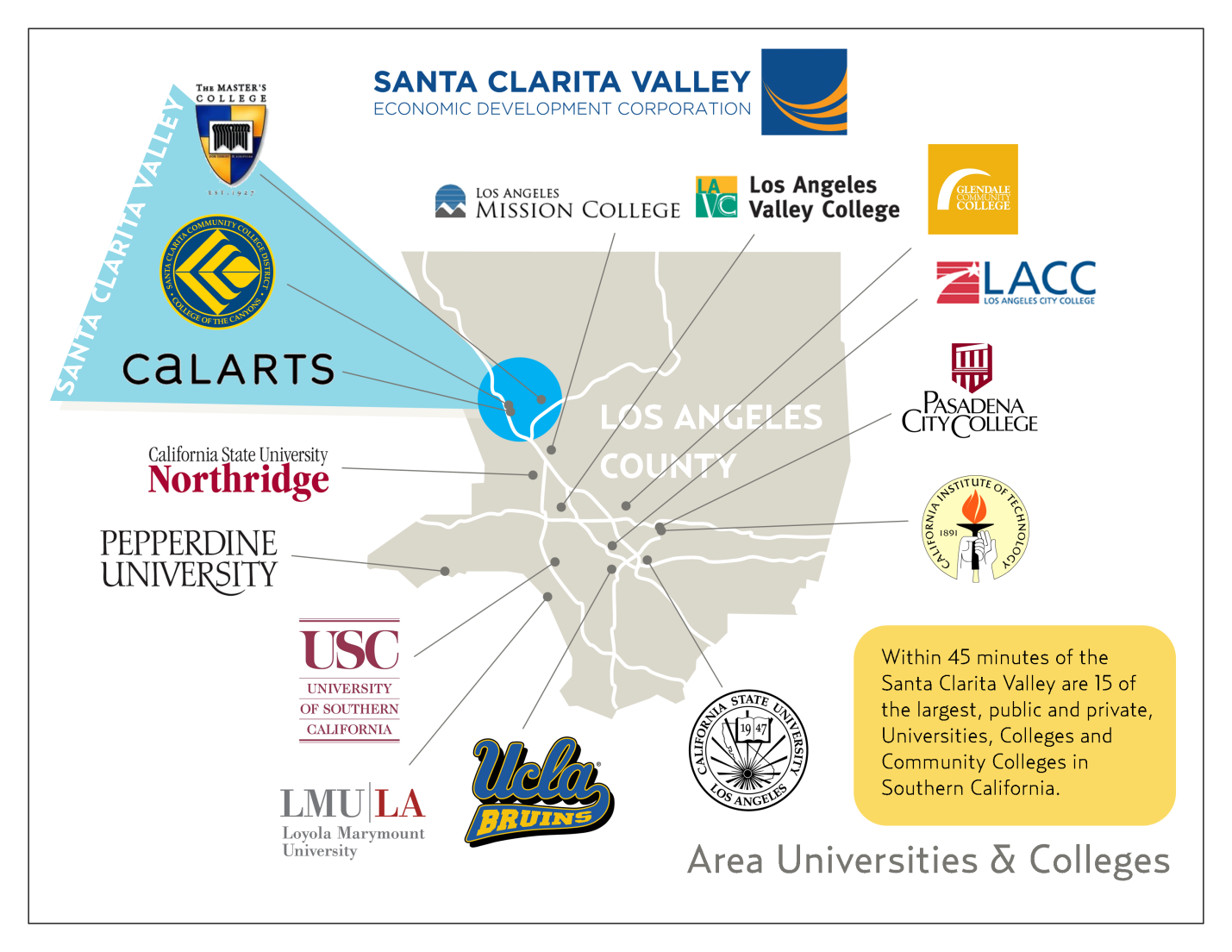 Higher Education
College of the Canyons: better known as COC, the college offers nearly 150 associate degree and certificate programs, and serves 31,000 students per year at campuses in Valencia and Canyon Country, as well as online. In addition to meeting the academic needs of students, the college also plays a key role in developing the economy of its service area. The Economic Development Division generates approximately $3 million per year to provide cutting-edge training more than 4,000 employees at nearly 900 area companies.
California Institute of the Arts: established in 1961 by Walt and Roy Disney, California Institute of the Arts (CalArts) is the nation's first higher education institute to offer undergraduate and graduate degrees in both the visual and performing arts. Offering rigorous undergraduate and graduate degree programs through six schools—Art, Critical Studies, Dance, Film/Video, Music, and Theater—CalArts has championed creative excellence, critical reflection, and the development of new forms and expressions.
The Master's University: focused on education with a spiritual foundation, the college offers students a premier inter-denominational Christian education, and over fifty-five academic programs in undergraduate, graduate and adult professional training programs.