Foreign Direct Investment
Your Southern California Destination!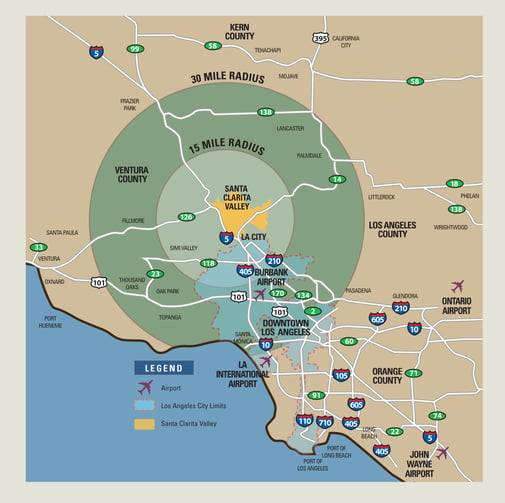 According to World Trade Center Los Angeles (WTCLA), over half of foreign-owned companies in Southern California are located in Los Angeles County. The Santa Clarita Valley is an ideal location for foreign direct investment because it provides easy access to the expanding United States market.
Santa Clarita is Los Angeles County's third largest city and is situated just 30 miles north of downtown Los Angeles. It is close to two international airports - Hollywood Burbank Airport (BUR) and Los Angeles International Airport (LAX), and the Ports of Los Angeles and Long Beach.
We recently published a soft-landing toolkit to help foreign firms establish a U.S. location in the Santa Clarita Valley. Our business services team is ready to assist your expansion efforts into the U.S. market.
READ ON: Click here to download the soft landing toolkit
REAL ESTATE & SITE SELECTION ASSISTANCE
Private Tour of the Santa Clarita Valley
Site Visits to Available Properties (Lease and Purchase)
Acquiring Utilities (e.g., Energy, Water, Gas, Telecommunications)
City and County Expedited Permitting and Processing
Workforce Recruitment & Training
SCVEDC Expert Resources
Incentive Programs (e.g., Foreign Trade Zone)
Logistics, Transportation & Fulfillment Options (Foreign Trade Zone)
Legal (e.g., Intellectual Property and Business Incorporation)
Labor Law (e.g., City, State and Federal Regulations)
Banking (e.g., Credit Line, Real Estate Purchase and Construction Loans)
Tax & Accounting (e.g., Financial and Inventory Audits & Tax Requirements)
Foreign Direct Investment (FDI) Resources

Santa Clarita Valley Brochure

California Investment Guide

Chinese
READ ON: click here to view the brochure from our recent trade mission to China
We welcome the opportunity to help you locate and expand your business in the Santa Clarita Valley. Contact us and we will do our best to identify opportunities for your business to succeed in the SCV.