VALENCIA, CA, SEPTEMBER 14, 2016: Scorpion, one of the fastest growing website design and Internet marketing firms in North America serving legal, healthcare, franchise, and home service clients, has purchased a site on which to build their new corporate headquarters in the Santa Clarita Valley. Scorpion's new headquarters will be the first creative office building of its kind in the area and will prominently feature an environmentally conscious, employee-centric design.
Plans for the new headquarters revolve around the facilitation of employee wellness and innovation via large, open creative spaces, fitness centers, natural lighting, indoor game centers, and a fully equipped dining facility. The company is also considering incorporating solar panels across their parking lot, electric car charging stations, and similar eco-friendly assets. Scorpion's new headquarters will adhere to strict clean energy standards for a low environmental impact to benefit the local community, including plans to achieve LEED building certification.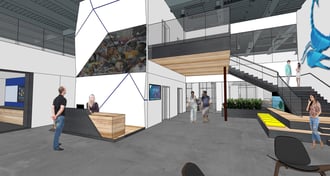 "We believe focusing on the well-being and satisfaction of our employees directly translates to the well-being and happiness of our customers, and that's behind the design for the new building," states Scorpion CEO and founder Rustin Kretz. "We choose Santa Clarita Valley as our permanent home because our employees live and thrive here, and we see it shaping into the epicenter of a tech hub that spreads across Los Angeles County."
Building in Santa Clarita affords the proximity of the downtown Los Angeles and Hollywood metropolitan areas while maintaining affordable housing and a family-friendly lifestyle for employees. Michael D. Antonovich, LA County Board of Supervisors, 5th District, adds that, "Scorpion's growth in recent years is an example of the good, quality jobs that Los Angeles County needs to support. That growth led Scorpion to make the commitment to invest in the Santa Clarita Valley for its future, and we are pleased to have this innovative company as part of the Santa Clarita business community."
To streamline development, Scorpion is working closely with a collection of very experienced agents, architects, developers and contractors. "We've been able to assemble a great team to lead the development and construction of this project for Scorpion," states Scorpion's CFO Matthew Shepherd. "Their collective commercial office development expertise combined with work history in the Santa Clarita Valley and firsthand knowledge of this particular project site promises a very efficient process. They are very dedicated to meeting our aggressive time table."
Scorpion and its development partners are working closely to meet a Q3 2017 completion date. "Scorpion's plans to expand in Santa Clarita will further solidify our city as an up-and-coming tech center," states Holly Schroeder, President and CEO of the SCV Economic Development Corporation. A formal groundbreaking ceremony is projected for September once designs and official building plans are finalized.
About Scorpion
Scorpion is a full-service Internet marketing company that provides website design, search engine optimization (SEO), pay-per-click (PPC) advertising, video advertising, online reputation management, and social media services. The company's effective marketing and advertising strategies have directly translated to the growth of thousands of firms, businesses, and healthcare centers across the United States. Scorpion serves legal, healthcare, franchise, multi-location businesses, and home service businesses. Visit http://www.scorpion.co or call (844) 418-5474 for more information.