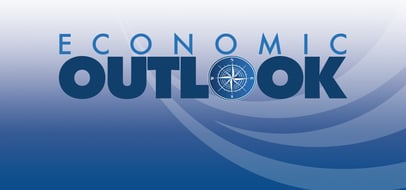 The economic shutdown due to the COVID-19 pandemic coincided almost perfectly with the Santa Clarita Valley Economic Development Corporation's previously scheduled, and ultimately canceled, Economic Outlook on March 12, 2020. With rapidly changing mandates and an uncertain economic climate, we transitioned to hosting a September 2020 virtual event, with an additional virtual update in March of this year. Last Friday marked the highly anticipated return of the SCVEDC's Outlook to a hybrid in-person and virtual event, hosted at the Santa Clarita Performing Arts Center at College of the Canyons.
The event kicked off with a panel discussion including prominent business leaders Lance Williams (Williams Homes), Jan Swartz (Princess Cruises), and Christian Harris (Sunkist Growers), with Todd Stevens (Black Knight Energy) moderating the conversation. We heard them discuss technology, hiring, culture, vaccines, supply chains and a host of other business topics. Following the panel was economist Dr. Mark Schniepp of California Economic Forecast, who has been keeping a close eye on the rapidly evolving economic impacts of the shutdown on a national, state and local level. According to Schniepp, all the leading indicators point towards continued economic recovery, with sharp growth predicted for the coming year and a recession nowhere in sight.
Dr. Schniepp explained how California's economy was one of those hit the hardest by the pandemic because of more severe and prolonged interventions but is currently forecast to outpace the U.S. by next year. Tourism-based economies were hurt the most and will take longer to recover, but will do so rather quickly. With the reopening of Six Flags Magic Mountain and the return to sailing by Princess Cruises, the SCV's two largest employers are well on their way. Though an economic recovery is underway, as we heard from both our panelists and Dr. Schniepp, we're not quite there yet. A variety of factors, such as continued federal subsidies and the Delta variant, have caused a slowdown of recent momentum.
Nonetheless, our labor market fallout has been improving, with a lower rate of unemployment (8.5%) than surrounding areas and the recovery of 10,000 jobs since March 2020. The employment deficit of 8,300 jobs and lingering labor fallout is largely limited to a few sectors which will recover in the next year. Employment in construction, STEM fields, healthcare, and leisure & hospitality are recovering strongly, while the manufacturing sector is still lagging.
New construction of both commercial and residential properties has carried on throughout the last 18 months, which will continue to spur the economic activity in our region. Schniepp stated that job restoration in the Santa Clarita Valley should occur between now and mid-2023 and will absorb most of the vacant/available space.
He predicts that Santa Clarita's job creation will have a big year in 2022. Along with increased availability of homes, this should lead to a substantial population gain compared to the last two years. This will generate even greater retail sales, which have already recovered dramatically this year due to more consumer spending. Indeed, he stated the worst appears to be over and there is nothing on the horizon that would derail the current recovery, other than unpredictable public health interventions.
For more information about the Santa Clarita Valley economy, visit SCVEDC's Data + Reports page.
The Santa Clarita Valley Economic Development Corporation (SCVEDC) is a unique private / public partnership representing the united effort of regional industry and government leaders. The SCVEDC utilizes an integrated approach to attracting, retaining and expanding a diversity of businesses in the Santa Clarita Valley, especially those in key industry clusters, by offering competitive business services and other resources.