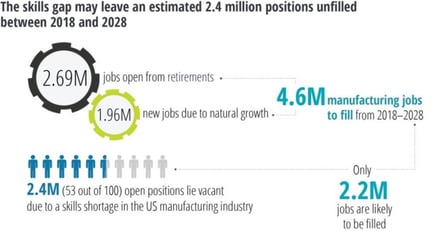 Where are all the workers with the relevant job skills my company needs? Most have heard or experienced this sentiment for years now, and it was only exacerbated by the labor challenges from the pandemic. The economic impact of shifting technology and skill requirements across almost all workforce areas continues to be a concern. There are simply more jobs available than there are workers with the requisite skills.
So how do we fix it? There are short term solutions to this problem, such as offering higher pay for retention or increasing flexibility in the hiring process. High schools and colleges however are investing in comprehensive career pathways to provide real-world career experience to bridge this skill gap.
SCVEDC knows that workforce development is a top priority for SCV companies. That's why we are working with employers and educators to increase availability and access to Career & Technical Education (CTE) and other programs geared towards career pathways.
Schools are taking proactive measures to address the growing skill gap in the labor force by providing these relevant and practical educational training opportunities that align with the needs of the job market. These efforts aim to equip students with the skills and knowledge they need to succeed in the workforce and contribute to the nation's economic growth.
CTE programs are proven to increase student graduation rates, create bridges to future educational opportunities, and even give them a leg up before joining the labor force by earning industry credentials and certifications (see 2019 report on CTE programs by the US Department of Education). Their report's data shows the potential benefits of a concentrated sequence of CTE courses in high school, asserting that "Concentrating in CTE can provide students with a strong foundation of technical knowledge and employability skills to complement their academic studies and prepare them for both college and career options".
Our local Hart Union School District agrees with this view of CTE coursework, offering 27 different career pathways through CTE, along with job shadowing and internship opportunities. These programs are improved by the participation and input of community leaders and industry experts within our valley.
They feel that "the greater the communication we have with our local businesses the more work we can do as a district to enhance the opportunities, equipment, and curriculum we provide to our students. Business and Industry expertise helps to ensure we have cutting-edge industry-standard equipment, technology, and professional skills embedded in our courses. We want to ensure that our district students graduate opportunity-ready to enter the local workforce in the valley and are contributing members to sustaining our local economy".
Here are some common strategies being used by our local educational providers that are helping bridge the expanding skill gap between what employers need and the number of available workers with those skills:
Career and Technical Education (CTE) Programs: Many high schools and community colleges offer CTE programs that provide students with practical skills and knowledge in specific industries or fields, such as healthcare, information technology, manufacturing, and construction. These programs often include hands-on learning experiences, internships, and industry certifications, preparing students for well-paying jobs that are in high demand.

Dual Enrollment Programs: Dual enrollment programs allow high school students to take college-level courses for credit, often at community colleges. These programs give students the opportunity to earn college credits while still in high school, which can accelerate their progress towards a college degree or a career-focused certificate program.

Workforce Partnerships: High schools and community colleges are increasingly partnering with local employers and industry organizations to develop curriculum and training programs that align with the needs of the labor market. These partnerships can provide students with real-world learning experiences, such as internships, apprenticeships, and job shadowing, to better prepare them for the workforce.

Non-Traditional Learning Pathways: Some high schools and community colleges are offering non-traditional learning pathways, such as boot camps, online courses, and micro-credentials, to address specific skill gaps and provide flexible options for students to gain relevant skills quickly.

Career Counseling and Advising: High schools and community colleges are also placing a strong emphasis on career counseling and advising to help students explore career options, set career goals, and make informed decisions about their educational pathways. This includes providing guidance on labor market trends, job prospects, and skill requirements, so that students can make informed choices about their education and training.

Support for Underserved Populations: High schools and community colleges are working to address the skill gap by providing support and resources to underserved populations, such as low-income students, first-generation college students, and students from underrepresented minority groups. This includes offering scholarships, mentorship programs, and other support services to help these students overcome barriers and succeed in acquiring the skills needed for the labor market.
The district's strategic plan emphasizes offering equal opportunity and access for all students and ensuring that every student graduates opportunity ready to enter the workforce or pursue post-secondary education. If you or someone you know is passionate about helping improve the future talent of the SCV, contact Nancy Bailey (nbailey@hartdistrict.org) or visit their website for information on how to get involved.
Businesses who participate can:
Increase their visibility in the community. Be seen as a business that invests in schools.

Have access to future talent and can influence the future employment pool.

Make a difference in students' lives.
Do you have any workforce training needs at your company? Contact us!
The Santa Clarita Valley Economic Development Corporation (SCVEDC) is a unique private / public partnership representing the united effort of regional industry and government leaders. The SCVEDC utilizes an integrated approach to attracting, retaining and expanding a diversity of businesses in the Santa Clarita Valley, especially those in key industry clusters, by offering competitive business services and other resources.