Press Release - New aerospace company joins SCV's thriving local cluster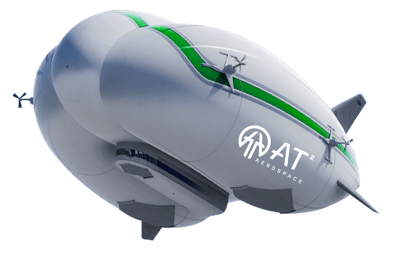 SANTA CLARITA VALLEY, CA – This month Lockheed Martin announced the completed transition of their hybrid airship IP and related assets to a newly formed commercial company, AT2 Aerospace. AT2 is developing airship solutions to support commercial and humanitarian applications around the world. The development of airships is anticipated to provide new freight alternatives for shippers, as well as the
ability to reach remote locations efficiently.
"The SCVEDC is proud to welcome another innovative aerospace company to our robust local cluster,"
said Holly Schroeder, President & CEO OF SCVEDC. "We can't wait to see these airships fly."

AT2 chose to locate their headquarters here in Santa Clarita, where they will function as the design,
development, and engineering base for the company. Located above the bustling Bridgeport
Marketplace, AT2's current staff, led by President and COO Dr. Bob Boyd, expect to grow to more than
50 people by Fall 2023. Production of the actual airships will take place in North Carolina, and they
should be flying by mid-2025.

Bob Boyd commented "We're thrilled to base AT2 in Santa Clarita, where we have access to excellent
engineering and design talent. We are confident that this is the right location for us to launch our new
venture."

AT2 airships promise to provide cargo alternatives that are faster than land and sea and cheaper than
existing air costs. The unique capabilities of the airships allow for multi-terrain capacities that can access
remote locations. Dr. Boyd reported that several letters of intent for Z1 airships have already been
received.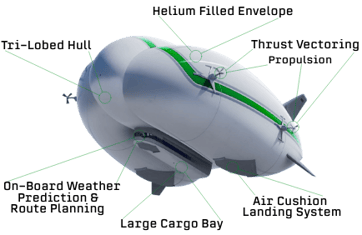 The Z1's unique Air Cushion Landing System (ACLS) allows the Z1 to land and takeoff from almost any location on the planet.

The Z1 utilizes buoyant lift technology delivering exceptional fuel efficiency, minimizing carbon emissions, and ultimately reducing transportation costs.

The Z1 will connect emerging economies to global trade networks.

The Z1 moves cargo faster than sea and land transportation at a fraction of the cost of existing cargo aircraft, filling a major gap in the global transportation market from a speed vs. cost perspective.
For more information on AT2 visit https://www.at2aero.space/, or email info@at2aerospace.space.
The Santa Clarita Valley Economic Development Corporation (SCVEDC) is a unique private / public partnership representing the united effort of regional industry and government leaders. The SCVEDC utilizes an integrated approach to attracting, retaining and expanding a diversity of businesses in the Santa Clarita Valley, especially those in key industry clusters, by offering competitive business services and other resources.