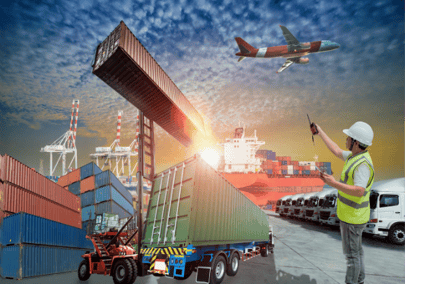 The SCVEDC is committed to spurring workforce training and development to empower our local labor force and help our businesses thrive. A big part of that commitment is our close partnership with College of the Canyons and their continued efforts to provide high quality training based on current industry needs.
College of the Canyons has launched a brand-new workforce training program that will be available in Summer 2023. The Certified Logistics Technician (CLT) training program will provide key knowledge, skills and competencies to job seekers so they are able to hit the ground running upon their first day. This 100-hour program will provide participants with 3 different certifications in Certified Logistics Associate (CLA), Certified Logistics Technician (CLT) and OSHA 10. Training will take place in person at College of the Canyons and the program will finish in August.
Some of the skills they will learn include:
Certified Logistics Associate (CLA)
Demonstrate an understanding of the various roles in the global supply chain logistics life cycle

Demonstrate an understanding of the logistics environment

Operate and use equipment

Practice safety principles

Practice quality control principles

Employ work communication practices

Practice teamwork and good workplace behavior to solve problems

Use relevant computer systems and applications to increase productivity
Certified Logistics Technician (CLT)
Receive products

Stock products

Process product orders

Prepare packages for shipment and ship products

Maintain control of inventory

Handle hazardous materials in a safe manner

Evaluate transportation modes

Perform dispatch, routing and tracking operations

Understand U.S. measurements and metric system conversions
They are looking for employers interested in hiring directly from this program to participate in a mini job fair for this specific cohort. Employers are not required to hire anyone but if someone fits your culture and interviews well we hope you consider them. In addition, there are additional funding opportunities to subsidize the new employees' wages for a certain period of time. There will be a short 30min employer orientation on Tuesday, May 9th at 10:00am for interested employers to ask questions and learn more about the program.
Contact Justin Wallace, Director, Business Partnerships & Workforce Engagement (Justin.Wallace@canyons.edu) for more information, or click below to register for the orientation and learn more!
Subject: CLT Training Program: Employer Orientation
When: Tuesday, May 9, 2023 10:00 AM-10:30 AM (UTC-08:00) Pacific Time (US & Canada).
Where: https://canyonsonline.zoom.us/j/89021166488
The Santa Clarita Valley Economic Development Corporation (SCVEDC) is a unique private / public partnership representing the united effort of regional industry and government leaders. The SCVEDC utilizes an integrated approach to attracting, retaining and expanding a diversity of businesses in the Santa Clarita Valley, especially those in key industry clusters, by offering competitive business services and other resources.