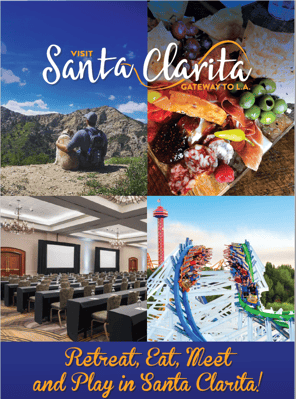 The Santa Clarita Valley has long been known as an ideal location to live, work and play. From theme parks and historic house tours to outdoor recreation and sporting events, you can fill your days with plenty of fantastic experiences for all ages. As the third largest (and still growing) city in the county, it's no wonder Santa Clarita has been dubbed the "Gateway to L.A.". Here you'll find everything you value in one outstanding Southern California destination that's central to everything. Santa Clarita is the hub for family entertainment and a short drive to beaches, snow and other nearby attractions. Not to mention home to the thrill capital of the world: Six Flags Magic Mountain!
With so many things to see and experience, it's no wonder that travel and tourism have become fundamental in the SCV economy. Visitor activity and spending helps support thousands of jobs and dozens of businesses providing lodging, meals and beverages, shopping, recreation and entertainment, and transportation. These sectors were hit the hardest of all by the pandemic, and due to distancing and vaccination guidelines their recovery timeframe remained uncertain. The City of Santa Clarita successfully pivoted their media strategies in order to help promote the amazing events, venues, destinations, and more that we are known for. As travel restrictions and social distancing slowly began to ease and the recession in the rearview, we have begun to see many of economist's predictions for recovery come true for leisure, travel, and entertainment.
Despite being the hardest hit, these sectors are bouncing back in tremendous fashion. This surge of growth in our economy has been led by consumer spending, job and income creation, leisure travel and tourism, and strengthening demand for public gatherings like concerts, conferences and sporting events. Californians are desperately seeking ways to return to normal fun activity, all things the Santa Clarita Valley has in spades. We've added 5 new hotels this year alone, and hotel occupancy rates are continuing to normalize as the hospitality industry begins returning to full swing.
We've recently seen the re-opening of places like Six Flags, return to sailing by Princess Cruises, and much needed state legislation expanding outdoor dining options for restaurants. Santa Clarita is well on its way to recovery, according to economist Dr. Mark Schniepp, who forecasts employment levels at hotels, motels, and restaurants will reach a fully recovery in 2022. So go buy that season pass, eat out at that new restaurant your friends are raving about, or invite your friends from out of town and explore our abundance of open space. The many thrills, outdoor adventure, family fun, and entertainment of the Santa Clarita Valley are open and waiting to be explored!
The Santa Clarita Valley Economic Development Corporation (SCVEDC) is a unique private / public partnership representing the united effort of regional industry and government leaders. The SCVEDC utilizes an integrated approach to attracting, retaining and expanding a diversity of businesses in the Santa Clarita Valley, especially those in key industry clusters, by offering competitive business services and other resources.