Economic Development - More Important than Ever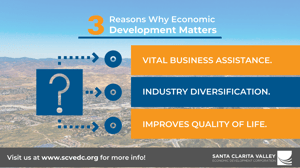 This is an op-ed originally published in the Signal by SCVEDC Co-Chairs Calvin Hedman and Roger Seaver.
This week is National Economic Development week and the timing couldn't be more perfect. As we look ahead to reopening the economy, economic development is going to be more important than ever.

Some of you may be wondering what economic development is. The official definition is that economic development is the intentional practice of improving a community's economic well-being and quality of life. That definition holds true here in the Santa Clarita Valley.

10 years ago, in the aftermath of the Great Recession, leaders in the Santa Clarita Valley recognized that for the SCV to prosper and thrive economically, it was going to take focused effort. That's when the Santa Clarita Valley Economic Development Corporation was formed. SCVEDC is a public-private partnership, bringing together the City of Santa Clarita, the County of Los Angeles, academic institutions such as College of the Canyons, and the private sector. Each sector brings its own perspective, resources, and talents to the team, and economic development is definitely a team effort.

Here in the SCV, we work on a valley-wide approach to grow jobs in target sectors of film and digital media, aerospace, technology, and medical devices. Now more than ever, a thoughtful, integrated approach to economic development is a vital component of supporting businesses and growing and maintaining jobs.
Here are three reasons economic development matters, and why you should pay attention to it:
1. Economic development provides vital business assistance and support.
The Santa Clarita Valley Economic Development Corporation acts as a single point of contact for business needs. From access to tax incentives to workforce training at low or no cost, from expediting business issues resolution to managing local business coalitions, SCVEDC connects companies to the right resources, and provides solutions to keep your business thriving.
Under "normal circumstances" on-site meetings are a great way for local businesses and the SCVEDC to get to know each other and to assess how our team can provide the greatest value. In fact, SCVEDC meets with more than 100 companies each year to discuss business operations, needs and future plans. This allows SCVEDC to capture the unique business dynamics and challenges faced by each company and offer a tailored mix of support and assistance. These face-to-face, confidential meetings are the most effective way to build relationships and deliver customized solutions with the most positive economic impact.
During the COVID-19 crisis, SCVEDC has continued one-on-one support in response to inquiries from numerous SCV businesses via telephone calls or zoom meetings. With the CARES act SBA disaster loan funding becoming quickly exhausted, followed by new federal funding for PPP and EIDL loans, SCVEDC has been supporting businesses as they seek answers to their many questions and frustrations.
2. Economic development strengthens the economy and provides needed resilience during economic downturns.
At the Santa Clarita Valley Economic Development Corporation we understand that some industries can be relied on to provide steady, well-paying jobs. That's why we focus on attracting and expanding companies in our target clusters within those industries. It is the diversity of industries that the SCV is known for that provides resiliency during economic downturns.
Quality jobs and higher wages generate greater tax revenue, which translates to improved public works and other services. The City of Santa Clarita's leaders have consistently prioritized a balanced budget and ensured that there is a "rainy day fund" in place to provide protection in case of an economic downturn.
3. Economic development can improve your quality of life.
The SCV boasts a highly skilled workforce, but our region also prides itself in providing free and low cost workforce training through College of the Canyons (COC) which provides advancement opportunities through specialized learning to employees. COC also offers robust internship and apprenticeship programs so employers will have a ready supply of highly qualified workers ready to meet the challenges demanded by fast-paced, high-tech workplaces. Further, programs offered by the Small Business Development Center help provide entrepreneurs the support they need as they launch new businesses.
We have also learned during this crisis that many employees are enjoying the benefits of working remotely and spending less time on the freeway. As the economy begins its reopening and recovery, finding a career closer to home will be a big priority for residents. Last year SCVEDC launched a free job board for SCV employers and residents called LiveWorkSCV.com. It has been a very successful way to connect local employers with local talent. As the economy begins to ramp up, we expect this will be a much utilized resource for both companies and job seekers.
While most communities have a plan in place for economic development, the Santa Clarita Valley Economic Development Corporation offers the unique approach of a public/private partnership with the City, the County of Los Angeles, College of the Canyons and local business leaders – all of whom serve on our Board of Directors. These partnerships allow us to comprehensively approach the economic development needs for the entire valley and focus our efforts on the industries that bring the return of quality jobs and increased opportunities today and in the years to come.
The COVID-19 crisis has certainly strained the economy of the SCV, but we can look towards the outcome from measures taken during the Great Recession for optimism. We know that recovery will be challenging, but with the support from organizations like SCVEDC, and the City's commitment to being business friendly, that we will come out of this stronger than ever before.
The Santa Clarita Valley Economic Development Corporation is a unique private / public partnership representing the united effort of regional industry and government leaders. The SCVEDC utilizes an integrated approach to attracting, retaining and expanding a diversity of businesses in the Santa Clarita Valley, especially those in key industry clusters, by offering competitive business services and other resources. 661.288.4400 | scvedc@scvedc.org