The Santa Clarita Valley continues to grow its footprint of local production facilities, with Newmark Knight Frank ("NKF") announcing Monday that LA North Studios signed a pre-lease for the final available building at the IAC Commerce Center. Expected to be ready in Q1 of 2022, Building 8 will add an additional 113,400 square feet to LA North's already substantial amount of production space. Film industry companies have been busier than ever during the spike in production the last few years, giving credit to SCV's moniker of "Hollywood North". There is no doubt that SCV is a happening location for filming, and with soundstage space at a premium, our region has added several more over the past years to accommodate the demand.
Vice Chairman John DeGrinis, Executive Managing Director Patrick DuRoss and Senior Managing Director Jeff Abraham represented the landlord, IAC Properties, as well as the tenant. LA North Studios is one of Santa Clarita's largest soundstage facility and studio operators, with this latest acquisition bringing their total square footage in SCV to ~400,000 SF.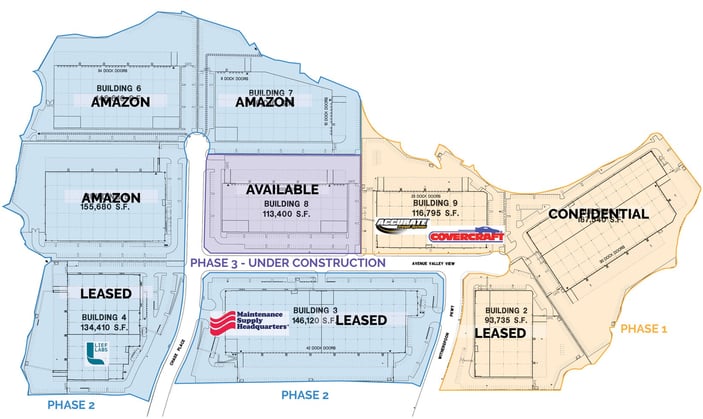 They provide soundstages, studios and other production services to major film studios. Some notable clients include Warner Bros., Amazon Studios, Showtime, Netflix, Disney, and Universal. Building 5 at the Center at Needham Ranch is LA North Studios' third production facility in Santa Clarita. LA North Studios footprint in the Santa Clarita Valley now includes more than 277,000 square feet of production space catering to small and large film, television and digital productions. Their main campus in Santa Clarita features five sound stages, a fully operational on-site construction mill and production space totaling 143,000 square feet.
"We are delighted to see the continued growth of our robust Digital Media and Entertainment industry here in the SCV. Film and television production has a storied history in the the Santa Clarita Valley, and has been popular with those in the industry since there was an industry," said Holly Schroeder, President and CEO of the Santa Clarita Valley Economic Development Corporation. "Our varied and beautiful terrain, proximity to Los Angeles, location at the edge of the entertainment industry's advantageous 30 Mile Zone, and our numerous movie ranches and sound stages make it an ideal location for filming."

These new soundstages bring the region's total number closer to 40. According to the Santa Clarita film office, our city remained busy over the 2020 and 2021 fiscal years. 2020 had an overall economic impact of $30 million, while this year we grossed around $37 million. 2021 saw a 62 percent increase in film permits, a 42.6 percent increase in film days and a 40.8 percent increase to the estimated economic impact when compared to 2020. The economic impact derives from film permits and renting space from locations like LA North and Santa Clarita Studios. But just as impactful is the additional commerce it brings from film workers eating at restaurants, staying in hotels, and shopping at various other venues supporting our local businesses.
The Santa Clarita Valley Economic Development Corporation (SCVEDC) is a unique private / public partnership representing the united effort of regional industry and government leaders. The SCVEDC utilizes an integrated approach to attracting, retaining and expanding a diversity of businesses in the Santa Clarita Valley, especially those in key industry clusters, by offering competitive business services and other resources.