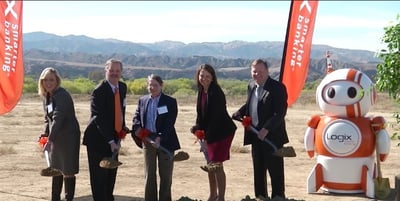 As Dave Styler, President and CEO of Logix, remarked in his opening introduction, October 26, 2016 was a momentous day in the history of Logix Federal Credit Union – it marked the beginning of a transitional period that will see the largest credit union in Los Angeles County move from its current Burbank location to a brand new modern building in the Santa Clarita Valley.
The relocation is driven by the tremendous success that Logix has experienced in recent years. According to Styler, Logix has grown its membership from 100,000 five years ago to 170,000 today; a rapid expansion driven by the company's superior offering in value and service. As increased membership led to a larger number of employees, the company began looking for a location to house its expanded headquarters.
Styler revealed that after an extensive search, the company expressed its interest in moving to the Santa Clarita Valley. Immediately, the company's top management was greeted with a "full court press by Holly Schroeder and her gang from the Santa Clarita Economic Development Corporation."
"It was the team effort that made the difference," said Holly Schroeder, President and CEO of SCVEDC, who attributed the successful courting of Logix to four key factors: the passion and proactive efforts of the community leaders, the SCV's reputation of being business friendly, a great location for Logix employees, and the dream factor that the 12-acre site offers." Just the construction phase alone will add 350-400 jobs and have a $4 million fiscal impact to the local economy," added Holly Schroeder.
Bob Kellar, the mayor of the City of Santa Clarita, and Katheryn Barger, Supervisor Elect of Los Angeles County, also spoke at the groundbreaking ceremony. Both singled out the critical role played by Holly Schroeder and her team at the Santa Clarita Valley Economic Development Corporation.
Phase I of the headquarters construction is scheduled to be completed in the third quarter of 2018. By that time, more than 500 employees will be working out of the new 170,000 SF Logix headquarters in a building that can house up to 900 employees. Phase II of the project is completed, approximately 1,300 employees will be working in the 250,000 SF Logix headquarters.
You can watch the video of the Logix headquarters groundbreaking ceremony here.