soon to occupy 965,000 square-feet across 6 buildings at Needham Ranch

When they started out, DrinkPAK was just a small start up in search of a new location in Southern California. Their principals had a long and successful track record creating beverage brands, then selling these brands along with their manufacturing facilities to world-class companies such as PepsiCo and Keurig Dr. Pepper. For their first dedicated contract manufacturing facility they ultimately chose the Center at Needham Ranch (CANR) as the optimal location for their project. Their plans called for a state-of-the-art, 3-line beverage contract manufacturing, packaging, and fulfillment center.
SCVEDC worked closely with DrinkPAK and Needham Ranch developers, helping to facilitate meetings and introductions to many agencies in SCV. As a result, DrinkPAK was able to achieve expedited permit processing with the City of Santa Clarita and County of Los Angeles, and rapidly connect with SoCal Gas for gas line routing, Sanitation District for discharge requirements, LA County Fire Dept. for truck loading/parking modifications, and the LA County Health Department for permitting of the production facility. SCVEDC also introduced many tax incentives and resources that would benefit DrinkPAK in SCV.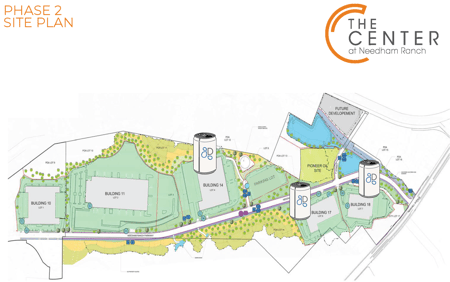 What started as a single building with one manufacturing line has rapidly grown to include 6 different buildings at CANR, operating on over 965,000 square feet of the 1.7-million square foot industrial park of CANR. Now in its final phase of development, Needham Ranch recently celebrated its status as fully leased during a commemorative wall tilt for DrinkPAK's newest building. The final two buildings in the development will also go to DrinkPAK and are set to be completed by year-end 2023.
"We're thrilled to continue expanding our state-of-the-art beverage manufacturing campus within The Center at Needham Ranch. With the addition of these two new buildings, we will occupy more than 1.2 million square feet of production and warehousing facilities in Santa Clarita and the surrounding areas. This additional footprint will allow us to accelerate growth and create hundreds of additional jobs in the Santa Clarita Valley," said Nate Patena, Chief Executive Officer of DrinkPAK. "With more than 500 employees and over two billion cans produced annually, DrinkPAK has become the largest canned beverage contract manufacturing facility in the western US. We're grateful to TCC and Clarion for their continued partnership as we expand throughout the country."
And make no mistake, on the long path to achieve such success at CANR, teamwork and partnerships were crucial. "The SCVEDC is thrilled to see this highly anticipated project come full circle after all the hard work and collaboration between so many organizations," said Holly Schroeder, President & CEO, Santa Clarita Valley Economic Development Corporation. "The Center at Needham Ranch has delivered on its promise of creating economic growth and high-quality jobs in the Santa Clarita Valley, attracting prominent businesses in the target sectors of advanced manufacturing, logistics, and digital media and entertainment."
The collaboration of SCVEDC, Trammel Crow and Clarion Partners, CBRE, and all City and County agencies truly underscored the business-friendly nature of SCV. Back in May of 2022, DrinkPAK was estimated to hire 425 local employees over 5 years, with a total five-year economic output of more than $1.3 billion, labor income of more than $402 million, and over $35 million in State, County, and local fiscal revenues. At that time DrinkPAK's total square footage was close to half (574,410 square feet) of what it will operate after the completion of the final 3 buildings at Needham Ranch.
Craig Peters, SCVEDC Board Member and Vice Chairman with CBRE, added, "This is an amazing project. For me personally, this has been a 28-year journey since my initial meeting with the original landowner, Mark Gates. Through the hard work and efforts of the TCC and CBRE teams, along with many others, the project has achieved great success, the most important being the thousands of jobs created from this development that will have a significant and lasting economic impact and enhance the quality of life for the City of Santa Clarita and its residents for many decades to come. I'm honored to have played a small part in this huge win for the Santa Clarita Valley community."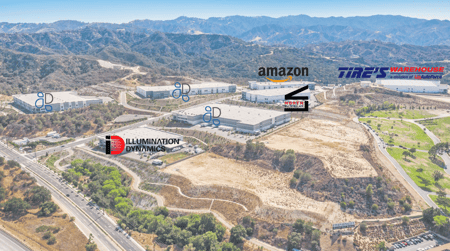 In addition to DrinkPAK, the final roster at CANR includes LA North Studios, Illumination Dynamics, two buildings for Amazon, and the most recently added tenant Tire's Warehouse. "The Center at Needham Ranch was developed to fill a growing need for state-of-the-art Class A industrial space in the LA North industrial submarket, which has seen record-low vacancy rates since we began construction on this project six years ago..." said John Balestra, another SCVEDC Board Member and Principal with Trammell Crow's Los Angeles office. "We continue to be grateful for the support we've had for this complex greenfield development project from the City of Santa Clarita and the Santa Clarita Valley Economic Development Corporation, and we look forward to wrapping up construction by the end of the year."
DrinkPAK's explosive growth in the SCV continues to have a big impact on our economy. Within 1 year of operation they became one of the Largest Employers in the SCV, and are now one of the largest canned beverage manufacturers in the US. Their CEO Nate Patena currently serves on the SCVEDC Board of Directors, and spoke on our Business Leader Panel at the 2022 Economic Outlook Conference. For the full story on DrinkPAK's expansion and impact in our valley, check out our case study!
DrinkPAK will occupy the 107,522-square-foot Building 17 and the 85,802-square-foot Building 18 at CANR. The company had previously pre-leased the entire 198,451-square-foot Building 14, following its leasing of 172,324 square feet of space in Building 2 in October 2020 and 400,095 square feet in Buildings 3 and 4 in April 2021.
Oltmans Construction Co. has acted as the general contractor for CANR. The project's architect is HPA, Inc. and the civil engineer is Alliance Land Planning & Engineering. Long-term TCC partners, Comerica Bank and Citizens Bank provided construction financing.
DrinkPAK was represented by Patrick DuRoss, John DeGrinis, and Jeff Abraham of Newmark. CBRE's Craig Peters, Cameron Merrill, and Doug Sonderegger are the leasing agents for CANR.
The Santa Clarita Valley Economic Development Corporation (SCVEDC) is a unique private / public partnership representing the united effort of regional industry and government leaders. The SCVEDC utilizes an integrated approach to attracting, retaining and expanding a diversity of businesses in the Santa Clarita Valley, especially those in key industry clusters, by offering competitive business services and other resources.