Honoring Santa Clarita Valley's Largest Employers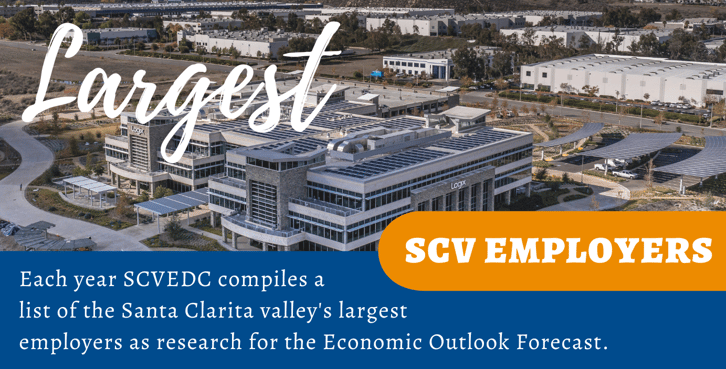 The Santa Clarita Valley is a growing region with significant business opportunities, including available, state-of-the-art industrial and commercial buildings in master-planned developments. Despite the challenges of the last few years, 2023 was a successful year for many companies, and there were several attractions and expansions across our target industry clusters. Through our research for the Economic Outlook Forecast, we compiled the Santa Clarita Valley Largest Employer's List illustrating marked growth in this past year.
One of the largest private sector employment gains in the Santa Clarita Valley was reported by DrinkPAK, now with a total of 443 employers at their new facility in Needham Ranch. Six Flags reported 300 jobs gained, representing a 13.6% increase in their total summer headcount. Amazon moved into two locations, one at the IAC Commerce Center and the other in Needham Ranch in 2020. The company employs 580 workers and did not downsize in the Santa Clarita Valley as it did in many other California locations over the last 10 months. SCV's workforce in all sectors has almost completely recovered from the trauma of the pandemic, business formation growth has continued to accelerate, and job growth has only been limited by an almost fully employed workforce.
Among the 50 largest employers for which complete information is available, there were 29,734 workers in the Santa Clarita Valley in August 2023. The Santa Clarita Valley's largest private employers expanded their employee headcounts by under 100 jobs, compared to last year's total of 202. However, the largest public employers downsized by 375 positions in 2023 relative to 2022. Employment at large public organizations declined by 4.3%. Thirteen of the largest private sector companies added new jobs over the last year. Eighteen companies actually downsized over the prior year. Nevertheless, collectively, total employment within the largest private organizations rose 0.9 percent.
The Santa Clarita Valley economic ecosystem is varied and diversified with multiple professional industry sectors – Aerospace & Defense, Medical Devices, Digital Media & Entertainment, Information Technology, Advanced Manufacturing, Corporate & Professional Services. All within a few miles of the West Coast's primary center of trade. This allows the Santa Clarita Valley to not only be resilient but thrive for years to come.
Whether it's designing cutting-edge technologies or developing life-changing medical devices, filming top-rated television shows or imagining world-class vacations, the Santa Clarita Valley is the ideal location for innovative companies in Southern California. Because the Santa Clarita Valley offers a high quality of life, a variety of tax and incentive programs for both small and large companies, and close proximity to most Southern California business centers, it's no wonder our region has been named Los Angeles County's most business-friendly city time and time again.
Click below to read the list of the SCV Largest Employers. For the separate lists of Private and Public employers, you can visit our Top Employers page.
The Santa Clarita Valley Economic Development Corp. is a unique private/public partnership representing the united effort of regional industry and government leaders. The SCVEDC utilizes an integrated approach to attracting, retaining and expanding a diversity of businesses in the Santa Clarita Valley, especially those in key industry clusters, by offering competitive business services and other resources. For more information, visit SCVEDC.org.