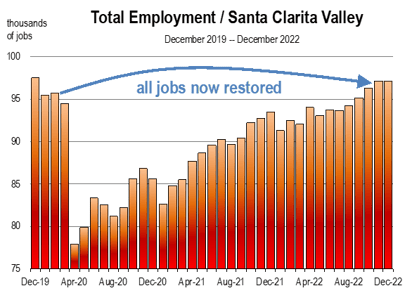 Providing vital data and information is just one of the important services and resources that the SCVEDC provides to local businesses. Most prominent of these resources comes from our resident economist, Dr. Mark Schniepp. Every quarter Dr. Schniepp and the SCVEDC publish an Economic Snapshot that updates data on labor force and employment, residential and commercial real estate, hotel vacancy rates, and film activity.
In his Q4 Snapshot for 2022, Dr. Schniepp summarized the labor force and employment trends as mainly positive, but still having areas for improvement. The job creation trend was consistent throughout 2022 and our region created 5,200 jobs in 2022, the most in any year since 2004.
Total employment in the Santa Clarita Valley continues to move higher. More positions are being filled in healthcare, manufacturing, local government and professional business services.
Sectors creating the most jobs over Q4 of 2022 were retail trade, manufacturing, professional business services, and educational services. The local public sector has also added another 200 jobs during this time. We have now observed that the Leisure / Hospitality / Recreation / Entertainment industry has fully recovered, and that has resulted in a fully restored job market from the pandemic recession.
The unemployment rate remains extremely low as estimated by the State. The unemployment rate in the Santa Clarita Valley fell to 3.9 percent in December, the same as in September and October, and the lowest rate since May of 2019.
Labor markets are effectively at full employment in the region. The labor force, however, has not fully returned, and this has resulted in a job market which has many open and unfilled positions. Nevertheless, 5,200 more residents were working in SCV in 2022 than in 2021. Keep an eye out for the Q4 2022 Snapshot and its accompanying podcast episode with Dr. Schniepp!
With job creation at an all-time high and total employment having returned to pre-pandemic levels, it's the perfect time to reevaluate your professional goals. Do you want to take your career in a new direction? Tired of a long commute and want to work closer to home? LiveWorkSCV.com is a free resource that matches SCV job opportunities with local SCV talent. Job postings are free to SCV employers, and all jobs are reviewed before publishing to assure they meet the SCV locale criteria.
Or maybe your virtual job search just isn't cutting it and you'd rather meet employers in person? This April 28th the SCVEDC has partnered with College of the Canyons, City of Santa Clarita, the Chamber of Commerce, and America's Job Centers of California, to host a valley-wide job fair. There are currently over 80 employers confirmed to attend, so help get the word out to your friends and family!
Visit MySCVJobFair.com for event details and names of employers, including times and dates for resume writing workshops to help you prepare. The event is free to all job seekers and open to the public.
The Santa Clarita Valley Economic Development Corporation (SCVEDC) is a unique private / public partnership representing the united effort of regional industry and government leaders. The SCVEDC utilizes an integrated approach to attracting, retaining and expanding a diversity of businesses in the Santa Clarita Valley, especially those in key industry clusters, by offering competitive business services and other resources.