SCV Celebrates Careers in Advanced Technology at MFG Day 2018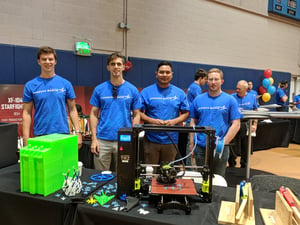 2018 marked the fourth year of collaboration between the William S. Hart School District, College of the Canyons, City of Santa Clarita, California Manufacturing Technology Consultants (CMTC) and our own SCVEDC to deliver a Manufacturing Day experience in SCV, this year in a new format that was exceptionally well received by close to 900 middle school and high school students. Stream Kids Expo became a new partner and driver of Manufacturing Day, with events spanning both Thursday evening, Oct. 4th, and Friday Oct. 5th.
Thursday evening marked the debut of Parents Café, where industry representatives from Lockheed Martin, NASA, PPG, Chocolates a la Carte, and Gantom/ZTag participated in a lively panel discussion on exciting tech advancements and new career opportunities. The panel was followed by parent roundtables with industry-led facilitators and educators, to further engage parents and students in their own discovery of new career options and educational opportunities.
Dr. Marianne Doyle, Director of Career Technical and Adult Education with the William S. Hart Union School District spoke about the importance of bringing current manufacturing technologies to students. "This is so critical in order for parents and students to learn more about manufacturing and to really get past some of the previous notions of what manufacturing looks like," said Doyle. "I think many of us have still have in our minds that old factory floor and it's changed over the past several decades."
Friday, October 5th brought a remarkable hands-on, interactive Stream Kids Expo to COC, where 875 students from middle schools and high schools valley-wide had a true hands-on opportunity to touch, feel, interact, and experience technologies ranging from robotics to space vehicles to audio equipment, 3D printing, illustration, guitars, drums, medical devices, aircraft and helicopter components, high performance racing parts, and much more. 32 SCV and nearby companies delivered immersive experiences to attendees in jam-packed sessions, spurring questions, dialog and discovery, and downright fascination.
Friday's participants included REMO Drums, Schiit Audio, Stratasys (3D), NTS, Boston Scientific, LSL Instruments, Advanced Bionics, Brain Stormz Robotics and more.
Both industry and student attendees declared the event a raging success, and several companies are already brainstorming how to take their interactive displays to the next level in 2019!
To learn about Advanced Manufacturing companies in Santa Clarita, visit our Advanced Manufacturing Page.
The Santa Clarita Valley Economic Development Corporation (SCVEDC) is a unique private / public partnership representing the united effort of regional industry and government leaders. The SCVEDC utilizes an integrated approach to attracting, retaining and expanding a diversity of businesses in the Santa Clarita Valley, especially those in key industry clusters, by offering competitive business services and other resources.