SCVEDC Co-Hosts Supply Chain Workshop
On October 25th, more than 30 small businesses in the Santa Clarita Valley, Antelope Valley and surrounding areas had the unique opportunity to meet resource partners at the Northern Los Angeles County Defense Supply Chain Business Resource Event. Funded by the California Advanced Supply Chain Analysis and Diversification Effort (CASCADE) initiative of the DoD, its purpose was to introduce businesses interested in or already participating in government defense contracting to a host of resource connections throughout the State of California that can help them better compete and win contracts.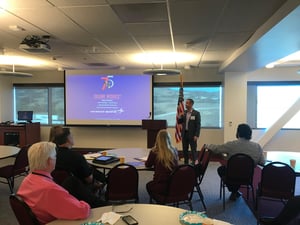 The event began with a keynote presentation by Lockheed Martin Aeronautics' Brian Brooks, Senior Manager, Skunk Works Advanced Development Programs. Brian offered great insights into Skunk Works operations, including its origin and history, how it was named, past and current programs, and qualities they look for in a new supplier. At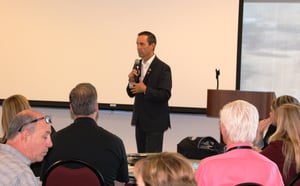 lunchtime, Congressman Steve Knight provided an update on his congressional committee priorities and California challenges.
The day was filled with very informative presentations by our "alphabet soup" resource partners:
California Community Colleges (CCC) presented their Doing What Matters (DWM) program, and the many resources available from community colleges throughout the state. A few highlights included workforce development resources such as the Gig Economy Project, 21st Century "soft skills" training with digital badge certifications, customized workforce training and access to Employment Training Panel (ETP) funds to greatly subsidize training costs.


San Diego East Coast Economic Development Council (ECEDC) introduced the Connectory, a CA-based internet Buyer-Supplier network that allows very detailed business profile content and data granularity, with case studies to exemplify its value.


Governor's Office of Economic and Business Development (GO-Biz) reviewed a host of services, especially Business Assistance programs supporting CASCADE.


CMTC spoke on cybersecurity resilience, DoD contractor cybersecurity compliance requirements, and resources to assist businesses in evaluation of current status, training, implementation and DFARS audit certifications.


Procurement Technical Assistance Program (PTAC) operated through the LA County Department of Consumer and Business and Affairs (DCBA), helps business compete for contracts by connecting them local, state and federal contracting opportunities, and providing support to prepare for the process and improving RFP responses.


Our region's Small Business Development Center (SBDC), funded by the Small Business Administration (SBA), covered several small business certifications that can help businesses compete for contracts reserved for small business classifications.
If you'd like more information or referrals to these many resources, contact Sue Arellano, Business Assistance Manager at SCVEDC.
The Santa Clarita Valley Economic Development Corporation (SCVEDC) is a unique private / public partnership representing the united effort of regional industry and government leaders. The SCVEDC utilizes an integrated approach to attracting, retaining and expanding a diversity of businesses in the Santa Clarita Valley, especially those in key industry clusters, by offering competitive business services and other resources.