SCVEDC is Your One-Stop Resource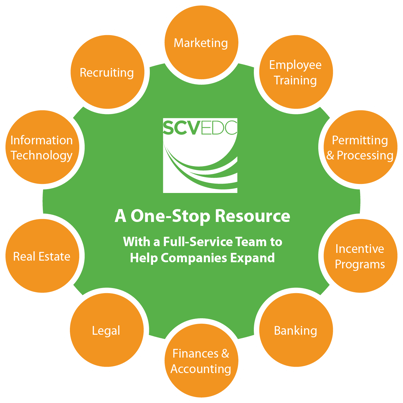 We're halfway through 2018 already! Business Assistance services continues build and we're meeting more and more of the companies in our valley, supporting jobs growth and helping our local economy flourish. In fact, we've already held 60 meetings with local companies and completed close to 100 assistance requests.
In fact just this week, a local manufacturer we're working with to solve a critical staffing issue commented, "I should have called SCVEDC right from the start. They've helped us resolve so many other challenges in the last couple years--I should have thought of you first."
And there's the lesson – think of us first for any business need. It's why we're here and our services are 100% free.
Need to staff up, replace, or expand? Call us to learn about free resources for hiring, including apprenticeship and internship program opportunities.
Want to better train your workforce? Call us to access new programs and training dollars.


Need a tax break? Call us for a rundown on latest tax credits.


Purchasing new manufacturing equipment? Call us for information regarding a sales tax discount.


Not sure who to call with a question or business challenge? Start with SCVEDC.
The Santa Clarita Valley Economic Development Corporation (SCVEDC) is a unique private / public partnership representing the united effort of regional industry and government leaders. The SCVEDC utilizes an integrated approach to attracting, retaining and expanding a diversity of businesses in the Santa Clarita Valley, especially those in key industry clusters, by offering competitive business services and other resources.