SCVEDC is Your One-Stop Resource for Business Needs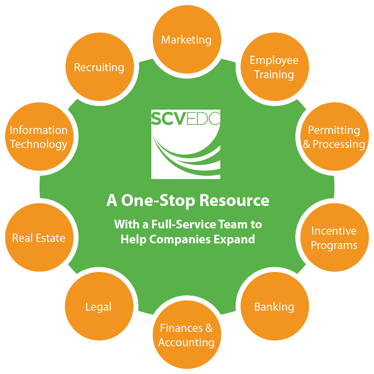 The Santa Clarita Valley Economic Development Corporation's (SCVEDC) overarching goals are to support the creation of high-paying jobs for our trained workforce, stimulate economic activity that grows the regional tax base, and strategically position the Santa Clarita Valley (SCV) and its businesses to better compete in the global economy. SCVEDC offers many services and resources to local businesses to help the access tax credits and incentives, workforce development and training, provides vital data and information, and connects companies for networking and peer support.


Here are just a few of the programs SCVEDC offers to support local businesses:

LiveWorkSCV.com is a comprehensive, highly visible job board that matches SCV career opportunities with SCV residents who want a job closer to home. Employers can post jobs, search for qualified professionals, or become a "featured employer."


Job seekers can search for jobs, create a profile on LiveWorkSCV.com, and sign up to receive job alerts when employers post a position that matches their qualifications. This is a free resource open to SCV employers and residents. Learn more: www.LiveWorkSCV.com


The Aerospace & Defense Forum, with seven other chapters located across Southern California, Arizona and Texas, is a membership-based leadership community that provides opportunities for sharing of information, current events, and analysis, mutual support and encouragement, partnering, innovation, and performance breakthroughs.


The Santa Clarita Valley Chapter meets monthly with informative presentations, panel descussions, and networking opportunities. Learn more: www.scvedc.org/aerospace-defense


In collaboration with our partner, CMTC, the Supplier Scouting and Matching Program is now available to all California manufacturers. CMTC's supply chain experts have matched companies with capacity to those in need and have solved the most unique problems for manufacturers, such as finding packaging for niche products, tubing for electronics products, PPE equipment for medical organizations, and even special solid state motors for renewable energy companies.

Whether you need assistance in addressing supply chain disruptions, or need help filling your extra manufacturing capacity, register your company for Supplier Scouting and Matching services. Learn more: www.scvedc.org/supplier-matching-program


The Santa Clarita Valley is home to businesses across a number of diverse industries, many of which chose this location to address a few common needs that arise for any growing company. In our podcast, Holly Schroeder, President and CEO of SCVEDC, interviews leaders of these great companies who are making a difference in the Santa Clarita Valley. Tune in: www.scvedc.org/podcast


Each year SCVEDC compiles a research book with information vital to your business. The Economic Outlook Forecast features information and data that will help business leaders prepare for both the short term and the long term. Economic forecasts are important for companies that need to have a picture of what the economic trends will be and how that will affect the decisions they make. An updated outlook book can be downloaded here: www.scvedc.org/outlook
The Santa Clarita Valley Economic Development Corporation (SCVEDC) is a unique private / public partnership representing the united effort of regional industry and government leaders. The SCVEDC utilizes an integrated approach to attracting, retaining and expanding a diversity of businesses in the Santa Clarita Valley, especially those in key industry clusters, by offering competitive business services and other resources.