It's always bittersweet when you lose a coworker so beloved as Sue Arellano. For those who don't know her, Sue was the Director of Business Assistance here at the SCVEDC for over 7 years. Her impact on the businesses and the community in the Santa Clarita Valley during her tenure is impossible to quantify. Whether it was helping with permitting issues, tax credits and business incentives, or assisting with workforce and training solutions, she was always willing to fight alongside our businesses to achieve their goals. Sue has taken the next step in her life and retired after many years of hard work and commitment to our community, and we couldn't be happier for her.
The trend of workforce shortages and a tight labor market has continued to be at the forefront of issues facing businesses. The Santa Clarita Valley has not been immune to the effects of this. We are however very ideally positioned to tackle this issue, and the SCVEDC has been collaborating extensively with a number of different organizations to find viable solutions for our local employers. Workforce development and training is more crucial than ever for economic developers engaging in business assistance and retention. To that end the EDC is excited to welcome Jey Wagner, Ed.D. as our Vice President of Workforce & Economic Development!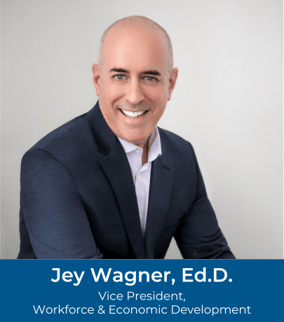 With a proven record spanning over three decades, Jey is a seasoned professional in delivering world-class business improvement results. His expertise extends to executive human resources and entrepreneurial leadership, where he has supported business strategy development and implementation across several continents and has successfully addressed company culture improvement initiatives. Jey's experience includes successful workforce development efforts, resulting in positive operational and financial outcomes. He has built and led teams, focusing on achievement of talent management and production goals. With his vast knowledge, Jey has coached senior leaders and managers in navigating complex issues while creating impactful learning and development programs that support retention, career advancement, and overall organizational growth.
As a trusted advisor and practitioner in strategic human resources management, adult learning-based solutions, and executive coaching, Jey excels in creating, developing, and implementing innovative skill and capability development programs in collaboration with senior decision-makers. Most recently, he served as the Senior Vice President of Employee Engagement at Leadership Enrichment Partners; a Global Professional Development Executive at Dale Carnegie Training and President and CEO of Dale Carnegie Training of Greater Los Angeles and Ventura County; Vice President of Human Resources at Electro Rent Corporation; and Vice President of Human Resources and Operational Committee Member at Answer Financial Inc. (an Allstate Company).
His dedication to continuous learning led him to earn a Doctor of Education in Organizational Leadership and Change from the University of Southern California (USC), a Master of Business Administration from Purdue University's Krannert School of Management, and a Bachelor of Science in Organizational Management from the University of La Verne. Furthermore, Jey's credentials also include Stakeholder Centered Coaching certification by Marshall Goldsmith and Master Trainer and Coach certification from Carnegie University.
In addition to his professional accomplishments, Jey is a veteran of the U.S. Air Force and California Air National Guard, where he served in both enlisted and commissioned capacities. He has been a resident of the Santa Clarita Valley for 33 years and lives in Newhall with his wife and children.
Welcome to the team Jey!
Contact Jey
Email: jeywagner@scvedc.org
Office: 661.288.4411