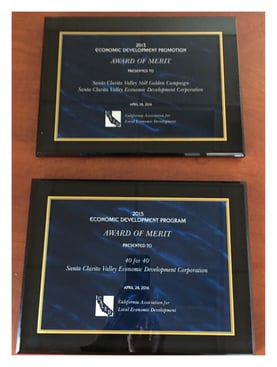 California Association for Local Economic Development (CALED) announced the roster of winners in economic development at its 36th Annual Conference in San Francisco, and the Santa Clarita Valley Economic Development Corporation (SCVEDC) won two awards in two of the three categories.
In the category of Economic Development Program, SCVEDC is one of the merit winners for its custom-designed "40 for 40" incentive program. "The goal of this incentive program is to attract new businesses to the Santa Clarita Valley in targeted industries," says Holly Schroeder, President & CEO of SCVEDC. "And the incentive is used to reimburse costs associated with permitting from LA county and the City of Santa Clarita."
Because it was originally designed to grant up to $40,000 to companies with at least 40 employees, the incentive is referred to as the "Forty for Forty" program. Since its inception in 2014, four companies that have moved or are in the process of moving to SCV have qualified to benefit from the program, ranking it as one of the most effective incentive programs targeted at business attraction.
The good news is that for smaller companies considering moving to SCV, the minimum employee headcount was lowered to 20, with fee reimbursement ranging from $20,000 to $40,000 depending on the number of employees.
"We still have more than half of the total funding left for prospective companies," says Holly Schroeder. "If your company is considering moving to SCV and is in Aerospace & Defense, Medical Devices & Biotech, Manufacturing, Digital Media & Entertainment, and Information Technology, we'd like to work with you on qualifying for this program."
SCVEDC was also a merit winner in the category of Economic Development Promotions for its "Still Golden" Campaign. "We were very happy to land on the tagline 'Still Golden' because growth and opportunity are what the Santa Clarita Valley is all about," says Holly Schroeder. "We immediately trademarked the tagline, and it definitely lends a positive halo effect to our thriving community."
The centerpiece of the campaign is a revamped brochure which combines core section with flexible inserts. Visually, the new brochure achieved consistency in visual identity while functionally, it allows for mix and match of business cluster inserts depending on the purpose of the event. In addition, by separating evergreen content from content that changes on a regular basis, it results in lower printing cost since only business cluster inserts need to be updated and reprinted.
In addition to the award-winning brochure, the "Still Golden" campaign also includes an introductory video on the advantages of doing business in the Santa Clarita Valley as well as online and social media promotion of the same theme.
"We are gratified to see our work recognized by our peers," says Holly Schroeder. "But we are not standing still. With new programs in broker relationships, data mining, website revamping, business alliance and workforce development, the best is yet to come."