Adding to the vast range of business services already provided by the Santa Clarita Valley Economic Development Corporation (SCVEDC) are our efforts to establish the Santa Clarita Valley (SCV) as a thriving and expanding technology innovation hub. The SCV has been quickly gaining traction over the past few years as a great place not only for high-tech entrepreneurs and start-ups to locate, but also for any businesses seeking to implement technological innovation into their successful growth. To further support this endeavor, SCVEDC will focus on building a strong foundation for innovation, based on five key components:
Infrastructure
Infrastructure provides the logistical basis to support an innovation hub. Dependable, state-of-the-art connectivity for both business and residential users is a requirement, as are affordable housing and options in transportation. The SCVEDC continues to advocate for improvements in the city's infrastructure, particularly with regard to technology access and transportation issues. Promoting cross-sector innovation and interactions encourages growth across all industries, while building a highly connected business community. By utilizing marketing campaigns and events, the SCVEDC ensures that businesses read and hear about the many opportunities in the SCV. It's all part of the services provided by the SCVEDC to businesses for the Santa Clarita Valley!
Education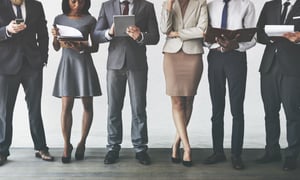 Key to tech industry businesses success is the opportunity for their workforce to receive continued education. SCVEDC works closely with College of the Canyons (COC) to support business services such as the California Apprenticeship Initiative Grant -recently awarded to COC - which provides an apprenticeship program with AMS Fulfillment. SCVEDC launched SCVInternships.com, an internship site that allows businesses to post paid internships to attract the incoming educated workforce as well as those already employed seeking to advance their careers. Companies are strengthened by these training programs offered in connection with SCVEDC for the SCV. The SCV is also home to Cal Arts, which graduates individuals with special talent in the visual, performing, media and literary arts.
Location
From start-ups, to medium enterprises, to full-fledged enterprise organizations, the SCV offers modern buildings with room for growth in master-planned business developments. With the business service support offered by SCVEDC, the SCV is an ideal location for thriving businesses as well as start-ups. Inspiring events such as 'Start-up Weekends' continues to expand the tech envelope. Creative co-working spaces like the newly opened Steamwork Center provide excellent networking opportunities where entrepreneurs can share and expand on their ideas.
Company
Innovation requires the right combination of talent and culture. Executive Peer Groups and Founders Groups are integral to building experience and navigating the challenges of growth and scaling. In addition, the city of Santa Clarita has shown its commitment to startup companies with the creation of the Business Incubator. Here, startup creative and technology businesses are offered low-cost office space, meeting rooms, customized trainings, a mentorship and networking program, and one-on-one consulting service. The SCV is already home to multiple emerging tech companies such as Arvato and Nexus, and rapidly expanding companies like Scorpion.
People
No business succeeds without a great team of people. Bringing people to the SCV who are innovative, energetic, educated and hard-working will certainly go a long way to guaranteeing a successful business. With the existing highly educated workforce combined with the training and internship opportunities available in the Santa Clarita Valley, both a business and its workforce are assured a bright future.
When these five components come together, they result in what we call "Community Tech" - technology trends that give life to the community. Technology plays a major role in how we live, work, and move. From smart homes and digital cities, to innovative commuting solutions, and great and varied office space locations, these are just snippets of what make the Santa Clarita Valley a leading force in the evolution of Community Tech. In combination, these assets promise to grow the SCV into an extraordinary tech community. Come join us as we expand the SCV into the next technology innovation hub!

The Santa Clarita Valley Economic Development Corporation (SCVEDC) is a unique private / public partnership representing the united effort of regional industry and government leaders. The SCVEDC utilizes an integrated approach to attracting, retaining and expanding a diversity of businesses in the Santa Clarita Valley, especially those in key industry clusters, by offering competitive business services and other resources.