Vista Canyon's First Mixed Use Structure Debuts for Broker Community
On Thursday, June 7, 2018, JSB Development showcased the first of Vista Canyon's mixed use retail/office structures in an introduction to the SCV commercial brokerage community.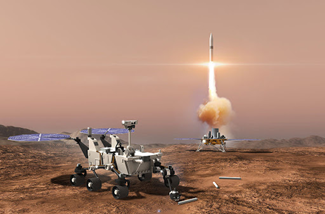 The well-attended luncheon event included a tour of the retail/office building and a unique opportunity to view the development through a drone-mounted camera. Introduced as its "signature" building, the 3-story, 57,000 SF mixed use office/retail structure is the first of 5 such buildings planned along Lincoln Place, Vista Canyon's "main street."
Architectural highlights include exposed reinforced concrete walls and ceilings, open floor plans, outdoor balconies, expansive and operable windows, and views on all four sides. Golden stonework and custom-engraved metalwork showcasing the California poppy will adorn the exterior. This building will be ready for occupancy end of 2018.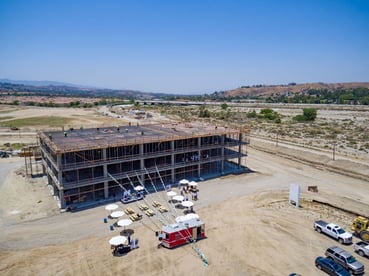 Vista Canyon is the first transit-oriented sustainable community to be created in Santa Clarita. The community will include 1100 residences, over 950,00 SF of office and retail space, 200 hotel rooms. An embedded Metrolink station and bus transit terminal open tremendous opportunities for non-personal vehicle commuting, making it the first truly car-optional community ever conceived in the SCV.
Sustainability is delivered through use of solar, 30+ EV stations, and dedicated water reclamation plant, along with community gardens, huge parks and ample open space, and miles of bike paths and trails.
CLICK HERE to learn more about Vista Canyon.