Walls up at Needham Ranch Phase 1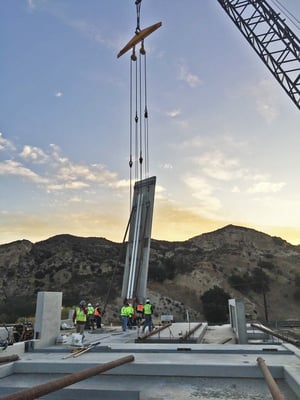 Trammell Crow Company (TCC) and Clarion Partners, LLC were joined by City officials and community members to officially celebrate the initial raising of the walls for Phase 1 of the highly-anticipated Los Angeles County business park The Center at Needham Ranch. Phase I occupancy is scheduled for Spring 2019.
The project is a master-planned, 132 net-acre industrial development located immediately adjacent to the San Fernando Valley approximately one mile north of Interstate 5 adjacent to Highway 14, providing immediate access to the San Fernando Valley and greater Los Angeles region with more than 5 million people within a 30-minute commute. Sitting at the southern entrance to the City of Santa Clarita, the development is ideally situated for "last mile" and regional distribution, studio and entertainment uses, manufacturing, research and development and corporate office uses.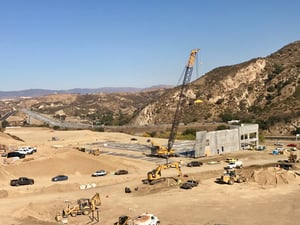 "This state-of-the-art industrial development is a great location for relocating and expanding companies in aerospace, advanced manufacturing, and digital media & entertainment sectors," said Holly Schroeder, President & CEO of the Santa Clarita Valley Economic Development Corporation. "We have already been seeing a lot of interest in this project and we look forward to partnering with brokers and their clients to assist with anything from providing data and expediting the permitting process, to providing information about incentives and other resources," Schroeder added.
Phase 1 of The Center at Needham Ranch is comprised approximately of a 900,000-square-foot, 7-building, Class A industrial park, offering buildings ranging from approximately 36,000-to-212,000 square feet on a 52-net-acre site. State-of-the-art features include: 30-to-36-foot interior clear heights with ESFR fire sprinklers, abundant dock high loading with large truck courts and yard areas, attractive architectural design featuring extensive use of glass, and abundant vehicle parking with capacity for above standard parking counts.
"Our walls are going up on our first three buildings and we are excited to finally be delivering this long anticipated project with Clarion Partners," said John Balestra, Senior Vice President with TCC's SoCal – Los Angeles Business Unit. "Since breaking ground in December 2017, mass grading is now completed, we are completing significant utility and traffic infrastructure improvements and our first three buildings are now underway. Given the extremely limited supply of functional Class A industrial product in the Greater Los Angeles North market where the vacancy rate is 1.4 percent, it is no surprise that we are already generating very strong occupier interest."
Needham Ranch is located just a few miles from Old Town Newhall, which will be an ideal meal and entertainment spot for those employed at the business park. "We are thrilled that the timing is critically paired with the redevelopment efforts in Old Town Newhall," remarked Mayor Laurene Weste. Weste went on to talk about the region's great historical significance, and about the Santa Clarita Valley's continued innovation, prosperity, and commitment to being business-friendly.
"The city of Santa Clarita has proven itself as being the most business friendly in LA County. With no business taxes, no gross receipts tax, the City can really differentiate itself from Los Angeles, with only being one mile from its border," added Craig Peters of CBRE who represents Needham Ranch.
The Santa Clarita Valley Economic Development Corporation (SCVEDC) is a unique private / public partnership representing the united effort of regional industry and government leaders. The SCVEDC utilizes an integrated approach to attracting, retaining and expanding a diversity of businesses in the Santa Clarita Valley, especially those in key industry clusters, by offering competitive business services and other resources.