3 Ways High-Tech Healthcare is Making an Impact
It's probably no surprise to you that growth in technology over the past few decades has had a significant impact on medicine. Beyond your doctor carrying a laptop to each appointment and improved devices, we're seeing healthcare evolve to use AI and robots, as well as nanotechnology and VR to improve patient care.
Let's look at three of the biggest high-tech additions to the industry and how they're making an impact on patient lives:
1. Virtual Healthcare
Many hospitals and healthcare providers are providing patients with the option to have virtual visits rather than head into the office via video conference,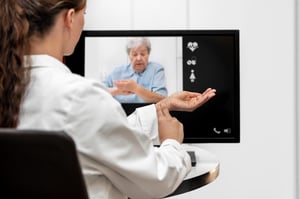 telephone, messaging, and mobile apps. Not only does this allow patients greater access and communication with their healthcare provider by providing more convenient hours and less travel time, it also drops the average minutes per visit by five, the equivalent of saving $7 billion annually in economic value.
While current practices are limited to treating more simple conditions like chronic pain or patient concerns, they could open the door for more immediate care down the line. Even being able to prescribe medication and opening lines of communication for potential options will impact the future of treatment.
The Santa Clarita Valley's Henry Mayo Newhall Hospital earned the distinction of being named a Most Wired Hospital, which indicates healthcare facilities that are using all available technology to provide greater access to care for patients in innovative ways.
2. Nanomedicine
Nanomedicine focuses on using microscopic particles to deliver treatment, make diagnoses, and prevent disease. Using nano particles to deliver treatment like chemotherapy allows doctors to target the affected area directly and specifically, and could even allow a controlled release of treatment resulting in fewer overall treatments.
There have been 50 nanopharmaceuticals to receive FDA approval since 1995. Additionally, their small size (1 inch = 25,400,000 nm) allows them to target precise areas for diagnostics and testing without getting too invasive.
3. Robot-Assisted Surgery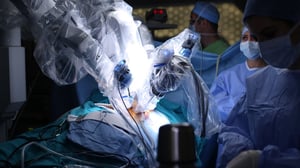 As technology becomes more precise, many hospitals are turning to robot-assisted surgery in which a surgeon controls tools through a computer with a magnified 3D, HD view of the surgical site. Currently it's used for minimally invasive procedures, allowing surgeons better visibility and precision with less risk of complications or bleeding. This technology is what allows for smaller scars and quicker recovery.
Hospitals like Kaiser Permanente are using robot-assisted surgery and radiosurgery to treat patients in a minimally invasive or noninvasive way to prevent trauma to other tissues, especially in cancer treatments.
Are you interested in learning how to grow your biotech company in the SCV? Download our FREE Relocation Guide!
The Santa Clarita Valley Economic Development Corporation (SCVEDC) is a unique private / public partnership representing the united effort of regional industry and government leaders. The SCVEDC utilizes an integrated approach to attracting, retaining and expanding a diversity of businesses in the Santa Clarita Valley, especially those in key industry clusters, by offering competitive business services and other resources.