Celebrating Economic Development Month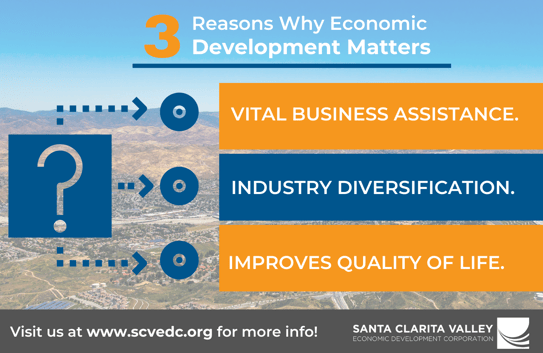 Many times the work of economic developers goes unnoticed and cruises under the radar. And that's okay! Being a silent investor in a region's economic well-being and quality of life is rewarding in itself and in May is celebrated by Economic Development month.
It is an honor for our business development team at the Santa Clarita Valley Economic Development Corporation (SCVEDC) to serve this region and help drive economic growth in our economy. The SCVEDC advances a valley-wide mission to grow jobs in target sectors of film and digital media, aerospace, technology, medical devices, advanced manufacturing, and corporate services. Now more than ever, a thoughtful, integrated approach to economic development is critical to growing and sustaining quality jobs.
Here are three reasons why economic development plays a vital role in our region's economy:
SCVEDC is a single point of contact for business needs. From access to tax incentives to workforce training at low or no cost, from expediting issues resolution to managing local business coalitions, SCVEDC connects companies to the right resources, and provides solutions to keep your business thriving.
Under "normal circumstances" on-site meetings are a great way for businesses and SCVEDC to assess the right programs to provide greatest benefit. These face-to-face, confidential meetings are the most effective way to build relationships and deliver customized solutions with the most positive economic impact.
During the pandemic, SCVEDC has continued one-on-one virtual support. With the exhaustion of 2020 CARES Act funding, followed by the new 2021 federal relief package, SCVEDC continues supporting businesses as they seek answers to their many questions and frustrations.
Economic development works to diversify the economy, reducing a region's vulnerability. At SCVEDC, we understand that select industries are relied on to provide essential, well-paying jobs, thus our focus on attracting and expanding companies in our target sectors. The Santa Clarita Valley boasts a diversified economic ecosystem with multiple industry clusters, allowing SCV to not only be resilient during economic downturns, but to thrive.
Quality jobs and higher wages generate greater tax revenue, which translates to improved public works and other services. The City of Santa Clarita's leaders have consistently prioritized a balanced budget and ensured there is a "rainy day fund" in place to provide protection in case of an economic downturn.
The diversity of businesses provides a fertile environment for employee attraction. This award-winning region is known for its educated and talented workforce, top-ranked schools, business-friendly culture, and unrivaled quality of life. College of the Canyons (COC) provides free and low-cost workforce training and robust internship and apprenticeship programs, so employers will have a ready means to upskill their workforce. Further, services of the Small Business Development Center provide entrepreneurs support to launch and grow their businesses.
We have seen in the last year that many employees enjoy the benefits of working remotely and spending less time commuting. As the economy reopens, finding a career closer to home will be a big priority for SCV residents. SCVEDC launched a free job board for SCV employers, LiveWorkSCV.com, to connect local employers with local talent, a valuable resource for both SCV companies and job seekers.
SCVEDC offers the unique approach of a public/private partnership with the City, the County of Los Angeles, COC and local business leaders. These partnerships allow us to comprehensively approach economic development for the entire valley bringing quality jobs and increased opportunities today and in years to come.
The Santa Clarita Valley Economic Development Corporation is a unique private / public partnership representing the united effort of regional industry and government leaders. The SCVEDC utilizes an integrated approach to attracting, retaining and expanding a diversity of businesses in the Santa Clarita Valley, especially those in key industry clusters, by offering competitive business services and other resources. 661.288.4400 | scvedc@scvedc.org