Amazon Inks 2 Deals in the Santa Clarita Valley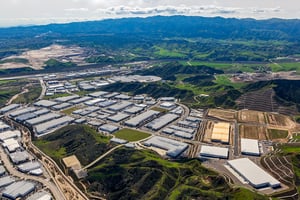 Amazon has signed two leases for distribution centers in the Santa Clarita Valley; one in the Needham Ranch development in the City of Santa Clarita and the second at IAC Commerce Center in unincorporated Los Angeles County.
It was first announced that Amazon leased approximately 100,000 square feet at the Center at Needham Ranch in the City of Santa Clarita. Needham Ranch is new, 54 acre state-of-the-art industrial development in the Santa Clarita Valley, located off SR14 just north of its junction with Interstate 5.
The e-commerce giant also leased in phase 2 of IAC Commerce Center. This new, 1.3 million square foot industrial development consists of nine modern buildings on 116 acres. Their IAC Commerce Center facility boasts 155,680 SF and Amazon plans to start operations in Q3 with 300 employees in addition to a fleet of delivery drivers.
"We are thrilled that Amazon has chosen to locate not one, but two facilities in the Santa Clarita Valley at a time when the need for e-commerce is exploding. Our region is ideally situated on I-5 with close proximity to the greater Los Angeles metro region," said Holly Schroeder, President & CEO of the Santa Clarita Valley Economic Development Corporation. "The Santa Clarita Valley is known for being welcoming to business and supporting them in today's changing work environment," Schroeder added.
READ ON: NKF Negotiates Lease with E-Commerce Company IAC Commerce Center
The Santa Clarita Valley Economic Development Corporation is a unique private / public partnership representing the united effort of regional industry and government leaders. The SCVEDC utilizes an integrated approach to attracting, retaining and expanding a diversity of businesses in the Santa Clarita Valley, especially those in key industry clusters, by offering competitive business services and other resources. 661.288.4400 | scvedc@scvedc.org