Applications are now open for Startup Boost Los Angeles Fall cohort and will close on September 16th, 2020.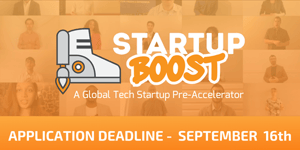 Startup Boost, a mentorship driven program aimed at guiding pre-seed/seed stage startups to accelerators, investment, and/or revenue (AIR), is now accepting applications for participants in their fall cohort.
Startup Boost will select the best eight-to-ten early-stage startups to take part in their eight-week program, which includes six weekly evening sessions and one demo night hosted online. Santa Clarita Valley startups are encouraged to apply.
Criteria for selection include: the right team, a minimum viable product, customer traction/validation, and viable plan for going forward. Their nearly 200 alumni in the last 3 years have raised $50m+ and gotten into a majority of the top accelerators.
Startup Boost does not charge fees or take equity from the companies that they select. They are sponsor-supported (Techstars, GAN, F6S and many more) and have developed the program to engage and propel early stage startups in multiple cities around the globe.
The Santa Clarita Valley has been named a "Top Tech Area to Watch" and is very supportive of burgeoning tech companies. There are a variety of ways the region supports startups, including the Santa Clarita Business Incubator (SCBI) which launched about six years ago with the aim of helping startups in both the tech and creative arenas through offering low-cost office space, conference rooms, mentorship and networking opportunities, and customized training. In spring, Business Incubator graduate Advrtas participated in Startup Boost's program and found it to be a very positive experience.
To apply: StartupBoost.org/LosAngeles
The Santa Clarita Valley Economic Development Corporation is a unique private / public partnership representing the united effort of regional industry and government leaders. The SCVEDC utilizes an integrated approach to attracting, retaining and expanding a diversity of businesses in the Santa Clarita Valley, especially those in key industry clusters, by offering competitive business services and other resources. 661.288.4400 | scvedc@scvedc.org