Behind the Behind-the-Scenes
If you've ever been to a theme park, 4D show, concert, trade show, or even a museum, chances are you've seen some form of visual and special effects. But even after experiencing them, you probably have no idea how much actually goes into the production behind the scenes beyond CGI and other digital effects.

Santa Clarita is home to Technifex, a company responsible for designing and manufacturing various systems for use across the film and entertainment industry to produce different illusions and experiences. They have even created live simulation environments for one of LA County Fire Department's Training Centers and the DoD, and you may have seen Sharkzilla, their giant mechanical shark, at Comic Con and during Shark Week this past year.

From Concept to Production – Engineering Custom Effects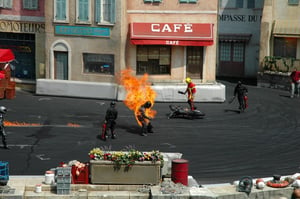 Special and visual effects aren't just created on a computer; they still require some manual effort and creation to bring to life. For example, simulated explosions, floods, and even building facades all start as an idea that goes through plans, prototypes, and testing before it gets put on set or in an amusement park.

Companies like Technifex work with clients to bring their concepts to fruition from a simple idea or plan, whether it's creating dazzling water features that dance to music, or simulating a dragon blowing heat onto an unsuspecting audience during an interactive performance.
Bringing Magic to SCV
Technifex currently has two facilities in SCV totaling 42,000 square feet, including a 5,000 square foot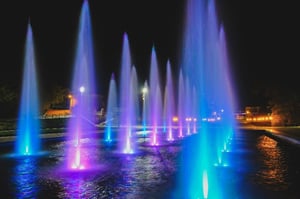 sound stage. Specializing in everything from water and fire elements, to fabrication and engineering of designs, Technifex is involved in much of the special effects production for all types of attractions and entertainment.

Most exciting, however, is the business they have helped bring into the SCV. Not only have they filmed 24 episodes for Discovery Channel as part of Shark Week on their soundstage, they have also been a part of 23 attractions that have won Thea Awards, IAAPA Best in Show Awards, and even an Emmy. Luckily, they have an available high-skilled labor force right here, with the necessary space still inside the Thirty Mile Zone to keep production and labor costs down as many other film companies have done.

If you're ready to take your advanced manufacturing business to the next level and join some of the top companies in the industry, we've compiled the top resources for growing here in California. Learn more about:


5 Top Challenges in Manufacturing (and how they can become opportunities)
California Resources and Incentives (to help manufacturing companies succeed)
6 Key Factors to Consider when Selecting the Right Location (that suits your short-term and long-term needs)

Download your

FREE copy of Strategic Methods to Accelerate Your Manufacturing Business in California TODAY!






The Santa Clarita Valley Economic Development Corporation (SCVEDC) is a unique private / public partnership representing the united effort of regional industry and government leaders. The SCVEDC utilizes an integrated approach to attracting, retaining and expanding a diversity of businesses in the Santa Clarita Valley, especially those in key industry clusters, by offering competitive business services and other resources.