Big Changes Ahead for the Santa Clarita Business Incubator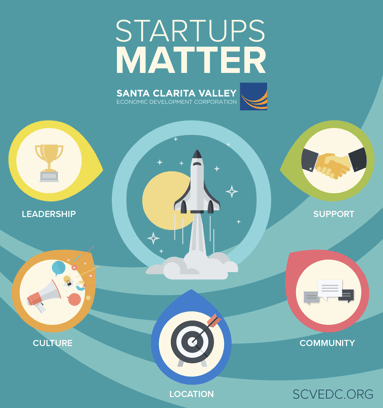 Designed to stimulate economic growth through entrepreneurship and enterprise development, the Santa Clarita Business Incubator is celebrating a significant milestone—graduating the first two participating companies from the program! The City of Santa Clarita is proud to honor Business Incubator graduates Nuhubit Software Studios, LLC and Outlyer Technologies for successfully participating in the Santa Clarita Business Incubator program.
Nuhubit, which develops a variety of mobile-friendly educational games, released its first educational math game, Bubbly Primes in late 2015. Bubbly Primes has sold in four continents to date. The next project in development for Nuhubit is a music-focused game called Forte Fox, expected to be released in 2018.
Throughout their tenancy at the Incubator, Outlyer has experienced exponential growth by elevating the consumer-brand relationship through emerging content platforms. In 2016, they launched AdVRtas, the first fully interactive 360-degree rich media advertising technology. Most recently, they provided a keynote speech at the Digital Marketing World Forum conference in New York. In anticipation of Nuhubit and Outlyer leaving the Incubator, a Request for Proposals seeking new and innovative startups to join the program was released in September 2017.
After a comprehensive evaluation of the applications and pitch presentations, a panel comprised of staff from the City of Santa Clarita, Santa Clarita Valley Economic Corporation, Small Business Development Center, and College of the Canyons selected three new tenants to join the Incubator program in 2018. The Santa Clarita Business Incubator is excited to welcome three new companies:
Celitech, which aims to improve the way mobile phones connect to cellular networks, starting with the most expensive type of connectivity: mobile data roaming.
Gapless Solutions, LLC, which is developing a platform, GapZap, that allows rapid development of custom solutions that integrate with businesses' existing systems, without the need to migrate data, re-train employees and other risks associated with switching to a new system.
Rangle News Inc., which has the goal of creating technologies to increase labor efficiencies for local newsrooms and helps ordinary people benefit from the economic value of their newsworthy content. Their flagship product is their "citizen journalism" newsgathering app.
Celitech, Gapless Solutions, LLC and Rangle News Inc. represent a diverse range of technology-focused solutions and will move into the business incubator to join current tenant 3D-SensIR starting January 2, 2018.
Related: 4 Business Resources Every Startup Needs
The Santa Clarita Business Incubator program is a partnership between the City, College of the Canyons and the Small Business Development Center. The Santa Clarita Business Incubator provides low-cost office space, meeting rooms, customized training, a mentorship and networking program and one-on-one consulting services for selected participating companies. To learn more about the new participating companies and the Santa Clarita Business Incubator program, please visit ThinkSantaClarita.com.
The Santa Clarita Valley Economic Development Corporation (SCVEDC) is a unique private / public partnership representing the united effort of regional industry and government leaders. The SCVEDC utilizes an integrated approach to attracting, retaining and expanding a diversity of businesses in the Santa Clarita Valley, especially those in key industry clusters, by offering competitive business services and other resources.