California Hosts National Manufacturing Asset Conference
This week SCVEDC joined forces with TeamCA, a private, non-profit that markets communities across the state, as part of the Host Committee for the Industrial Asset Management Council's (IAMC) Spring Forum in Santa Barbara, CA. IAMC, the leading industrial and manufacturing real estate trade association, holds bi-annual conferences to gather national leaders in site selection, manufacturing, and economic development for relationship building, professional development, industry strategies and best practices.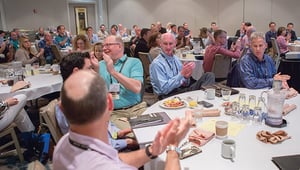 Participation in IAMC allows economic development members to build connections and showcase their communities with decision makers in the manufacturing industry.
The Santa Clarita Valley is a sought-after location for businesses involved in the production of high value-added, technical, or capital-intensive goods that require advanced inputs and manufacturing processes. The outputs produced by our firms are very diverse and range from electronics to engines to industrial machinery servicing a variety of industries.
Participation in forums like these helps to put our region on the map and reinforces SCVEDC's mission of bringing high quality jobs to residents of the Santa Clarita Valley.
To find out more about the Advanced Manufacturing cluster in the Santa Clarita Valley READ ON >>>
The Santa Clarita Valley Economic Development Corporation (SCVEDC) is a unique private / public partnership representing the united effort of regional industry and government leaders. The SCVEDC utilizes an integrated approach to attracting, retaining and expanding a diversity of businesses in the Santa Clarita Valley, especially those in key industry clusters, by offering competitive business services and other resources.