Combining Millennials and Baby Boomers in the Workforce


We've already discussed what kind of demands millennials have for the workplace and why it matters. But with the generation now making up the majority of the workforce, it's becoming more important than ever to recognize ways to integrate their new way of thinking into the company culture to foster peaceful relationships with the established baby boomers.
Generational Differences are Actually an Asset
The biggest discrepancies between millennials and baby boomers aren't actually driven by what they believe, but rather by their life experiences. Baby boomers were taught to climb a corporate ladder to success, while millennials grew up in an environment of flexibility and opportunity. Management can use this as a way to increase productivity and create greater adaptability to changing conditions. Varying perspectives and ability to predict changes before they happen are other advantages of incorporating the millennial approach into the boardroom.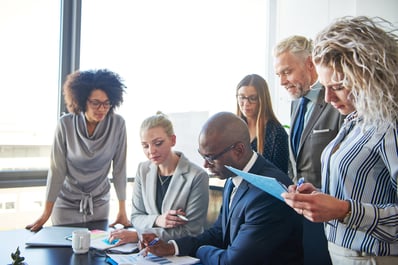 Additionally, outdated processes that aim to micromanage workers and threaten budget cuts or other restrictions will only cause discontent. Instead, companies should seek ways to grow by creating an environment that suits the employee's working style. This will enhance productivity and give them a level of autonomy that is linked to increased job satisfaction as employees feel more responsibility for their work.
Creating Opportunities for Mentorship
According to a study by Price Waterhouse Cooper, 98% of millennials feel that strong mentorship is an important part of their career development. Essentially this means that they're looking for trust and understanding from management, which ultimately builds long-term loyalty, as opposed to strict leadership that threatens them over mistakes and failures.
With the knowledge and experience baby boomers have accumulated over years in the workforce, they can offer incoming millennials a new perspective. Finding out what motivates each employee and challenging them to grow from experiences can help foster important work relationships and culture.
Are you ready to tap into the growing millennial workforce and enjoy a higher quality of life? Contact the SCVEDC to learn more about how the Santa Clarita Valley can help your company grow.
The Santa Clarita Valley Economic Development Corporation (SCVEDC) is a unique private / public partnership representing the united effort of regional industry and government leaders. The SCVEDC utilizes an integrated approach to attracting, retaining and expanding a diversity of businesses in the Santa Clarita Valley, especially those in key industry clusters, by offering competitive business services and other resources.