Construction on The Center at Needham Ranch Begins

Trammell Crow Company (TCC) and Clarion Partners have begun construction on The Center at Needham Ranch, a 54-acre, state-of-the-art industrial business park in Santa Clarita, CA. The project is the first phase of a larger 132-acre, fully entitled site approved for up to 4.2 million square feet of Class A industrial space. Phase 1 is expected to begin deliveries during the Q3 2018. A ceremonial groundbreaking event is being held on December 12 that was attended by public officials, the development team and other parties.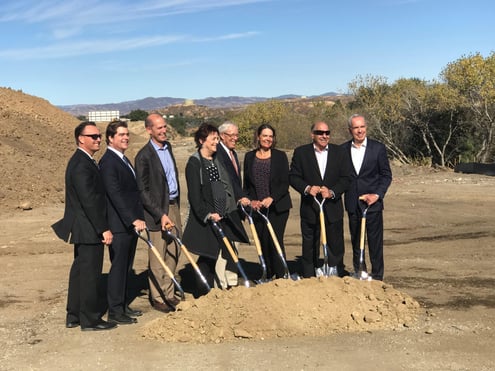 "We are very excited to see this long-awaited project underway," said Mayor Cameron Smyth, City of Santa Clarita. "The Center at Needham Ranch will help the City of Santa Clarita realize two key objectives: generate more local employment opportunities for Santa Clarita residents which reduces numbers of commuters and provide support to the City's investment in the revitalization of the Old Downtown Newhall area."
Phase 1 of The Center at Needham Ranch will comprise an approximately 869,000-square-foot, 7-building Class A industrial park offering buildings ranging from 34,270-to-210,000 square feet situated in a unique natural park-like setting amidst abundant open space. The state-of-the-art buildings will feature 30-to-36-foot interior clear heights with ESFR fire sprinklers, abundant dock high loading and large truck courts and yard areas with capacity for above standard parking.
"We are delighted to be providing new Class A industrial space into the highly constrained north Los Angeles market and a premier location for business," said TCC Senior Vice President John Balestra, with the firm's SoCal – Los Angeles office. "In addition to being located minutes from the intersection of Interstate 5 and the 405 Freeway with access to over 5 million people within a 30-minute commute, there are so many advantages for companies to locate within the City of Santa Clarita, one of the best cities in all of Southern California in which to do business. The list of strategic advantages includes access to a highly skilled and educated workforce, substantial economic incentives, expedited permit processing and a highly responsive City staff focused on job creation and economic development. The advantages for businesses are virtually endless."
The Center at Needham Ranch is located at the southern entrance to the City of Santa Clarita within one mile of the intersection of Interstate 5 and Highway 14, 30 miles from Downtown Los Angeles and 15 miles from Burbank Airport. The Project directly links to all areas within the San Fernando Valley and Greater Los Angeles County population centers and easily accessible from numerous major highways including the 5, 14, 405, 210, 118 and 126, in addition to Metrolink access via the Newhall Station in proximity.
"We see a tremendous amount of tenant demand in the North Los Angeles market for quality, state-of-the-art Class A industrial product in close proximity to the population centers, and an overall lack of new supply to meet those needs," said Michael Marrone, Senior Vice President at Clarion Partners. "Clarion Partners looks forward to partnering with Trammell Crow to fulfill this demand in a growing market that complements our existing Southern California portfolio."
Since 2001, TCC and Clarion Partners have partnered together on over 118 developments totaling more than 40 million square feet and $2.75 billion in investment.
CBRE's Craig Peters and Doug Sonderegger are the leasing agents for the property. "This has been a 15-year journey, and this ground breaking is such a big milestone," said Peters. "This project will deliver much-needed high-quality industrial space to the region. Interest in this site has been already extremely high, and we haven't even started on the first building yet."
Related: IAC Commerce Center Celebrates the Completion of Phase 1
The Santa Clarita Valley Economic Development Corporation (SCVEDC) is a unique private / public partnership representing the united effort of regional industry and government leaders. The SCVEDC utilizes an integrated approach to attracting, retaining and expanding a diversity of businesses in the Santa Clarita Valley, especially those in key industry clusters, by offering competitive business services and other resources.