IAC Commerce Center Celebrates the Completion of Phase 1
CBRE and IAC Properties announced the completion of the first phase of the new nine-building 1.3 million square-foot IAC Commerce Center in Valencia, California, one of the largest commercial projects in the region. As the three-building Phase1 is completed, CBRE and national developer IAC Properties welcome two tenants -- Accurate Freight and Covercraft -- to the state-of-the-art project situated in North Los Angeles County.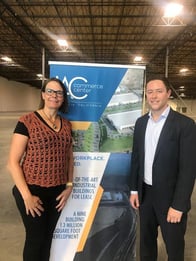 The Phase 1 buildings vary from 93,600 square feet to 187,540 square feet in size, and the project also offers build-to-suits as large as 560,000 square feet. CBRE's Craig Peters and Doug Sonderegger are the leasing agents for the project.
"We continue to receive a multitude of inquiries about this project from a wide range of companies, including manufacturers and national logistics and e-commerce firms," said Peters. "The leading-edge building features and ideal location are stimulating a very high level of interest."
The IAC Commerce Center is a master-planned, 116-acre business park, located adjacent to the Valencia Commerce Center and approximately 1 mile northwest of the Interstate 5 and Highway 126 interchange.
Holly Schroeder, President and CEO of the Santa Clarita Valley Economic Development Corporation said, "IAC Commerce Center is one of the most significant new industrial projects underway in LA County. After nearly 10 years of almost no construction, these state-of-the-art buildings are a welcome addition to our inventory."
The project is surrounded by an established commercial market with more than 25 million square feet of industrial and office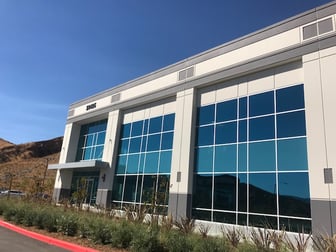 properties. The population within a 30-minute commute is nearly 5 million, including residents in the Santa Clarita Valley, San Fernando Valley and Antelope Valley.
"We're extremely excited to be a part of this community," said Michael Perlmutter, director of leasing at IAC Properties.
"One of the fundamentals of the project is to be a contributing member of the Santa Clarita Valley and help bring employees and residents to the area."
Phase 1 is located adjacent to the planned community of Newhall Ranch, which will encompass more than 20,000 homes and 60,000 residents. It is surrounded by scores of restaurants and shops.
Related: Two SCV Companies Expand Operations
Contact the SCVEDC – if you're looking to relocate, expand or get started, our business services team provides consultation and assessment that is professional, unbiased and confidential, giving you a one-stop resource center to support you through your relocation or expansion journey to the Santa Clarita Valley.
The Santa Clarita Valley Economic Development Corporation (SCVEDC) is a unique private / public partnership representing the united effort of regional industry and government leaders. The SCVEDC utilizes an integrated approach to attracting, retaining and expanding a diversity of businesses in the Santa Clarita Valley, especially those in key industry clusters, by offering competitive business services and other resources.