LA County Requests Proposals for Honor Ranch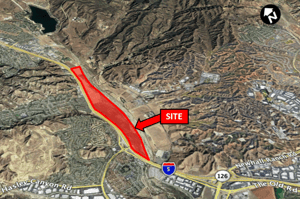 The County of Los Angeles is offering a rare and unique opportunity to develop a County-owned vacant lot in the Santa Clarita Valley, known as Honor Ranch. The large contiguous land area, freeway access, and high visibility of the Honor Ranch site offers an excellent opportunity for a high-profile, integrated, multi-use development.
Honor Ranch is 206 contiguous acres of undeveloped land immediately adjacent to the I-5 Freeway 40 miles north of Downtown Los Angeles. The site's two miles of I-5 freeway frontage offer abundant freeway visibility with access from an existing interchange. Honor Ranch is located in an affluent part of the County and is well‐positioned to provide a local‐serving commercial cluster for Santa Clarita Valley's large and growing population. With 30% projected population growth through 2040, and up to 32,000 residential units planned or proposed in the area, the County is targeting a development that provides high-quality jobs.
The Site's generally flat topography is conducive to development and value-added site attributes also include the presence of Castaic Creek as well as the sight lines to the surrounding mountains and natural beauty of the Santa Clarita Valley.
Through this Request for Proposals ("RFP"), the County intends to identify a qualified developer that will collaborate with the County and engage community stakeholders to refine a proposal into a viable project that meets County's objectives and developer investment requirements. The County desires to retain ownership of the Property and prefers that the proposed development will be subject to a long-term ground lease.
Included in this RFP is information about the opportunity, a survey of key demographic and market data, development activity overview, and the process for proposal submission and evaluation. Proposals are due by Wednesday, July 31, 2019, by 4:00pm (Pacific Time).
For more information CLICK HERE or download the RFP below:
The Santa Clarita Valley Economic Development Corporation (SCVEDC) is a unique private / public partnership representing the united effort of regional industry and government leaders. The SCVEDC utilizes an integrated approach to attracting, retaining and expanding a diversity of businesses in the Santa Clarita Valley, especially those in key industry clusters, by offering competitive business services and other resources.