Digital Healthcare: The Future of Treatment
By now it's no surprise that the medical industry heavily relies on technology. Patient records are stored and accessed digitally, telemedicine appointments allow you to have a doctor visit from your home, and AI is helping to run diagnostic tests in clinics. But as our health becomes more data-driven, what changes can we expect to see in the way providers and hospitals handle patient treatment?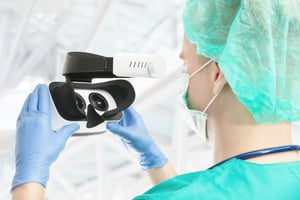 Virtual and Augmented Reality
Augmented reality has a huge potential for impacting the way surgeons operate in the OR, such as allowing them to view critical patient information on a heads up display rather than having to look away from the patient in the middle of surgery. It also opens up the potential to use prior imaging to highlight critical anatomy like nerves, blood vessels, and tumors in different colors, allowing surgeons to make important distinctions with fewer errors.
Virtual Reality, on a similar note, has immense implications for medical training by allowing students to perform simulated procedures and hone their skills before moving on to cadavers and live patients. While not perfected just yet, VR technology offers a lower cost solution for providing students and new doctors experience in simulated situations to learn necessary steps for procedures they may not otherwise be exposed to. For instance, during surgical rotations a resident may never experience some of the more common injuries because no patients come in with them during that time period, leaving them relatively unprepared should they come across the situation in the future.

The IoMT and Data
The IoMT, or Internet of Medical Things, will allow technology like wearable health monitors, telehealth, and data reported from devices like pacemakers to connect and communicate with one another. Of course, this brings up the question of data security, particularly within HIPPA regulations, and how healthcare providers will ensure that privacy remains of utmost importance. Currently the solution appears to be blockchain technology, which could open the possibility of securely sharing data without having to print and transfer records.
With an estimated 94% of US hospitals implementing electronic health record systems, the race is on to identify a way to handle potential security concerns. Ideally this will help streamline patient care through improved diagnoses for common conditions, reducing overall wait times, and improve the overall quality of care.
Are you interested in learning how to grow your biotech and medical device company in the SCV? Click the button to learn more!
The Santa Clarita Valley Economic Development Corporation (SCVEDC) is a unique private / public partnership representing the united effort of regional industry and government leaders. The SCVEDC utilizes an integrated approach to attracting, retaining and expanding a diversity of businesses in the Santa Clarita Valley, especially those in key industry clusters, by offering competitive business services and other resources.