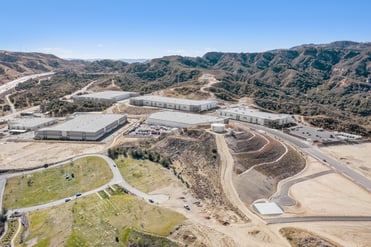 DrinkPAK Now Occupies More Than 572,000 Square Feet in Needham Ranch
Six months after signing its first lease in the Center at Needham Ranch (CANR) industrial park, DrinkPAK, the premier West Coast alcoholic and non-alcoholic beverage manufacturer, is already expanding its footprint in Santa Clarita, California.
Currently, DrinkPAK leases 172,324-square-foot at (CANR) and just this week signed two more leases for an additional 400,095-square-feet, bringing their total space occupied to 572,419-square-feet. This location will house the company's procurement support, complex batching and processing, filling, packaging, and on-site storage and distribution.
DrinkPAK provides complete beverage manufacturing and warehousing services to major beverage customers including some of the most prominent energy drink, hard seltzer, canned cocktail, and soft drink brands in world. Upon completion of the company expansion into Texas and Pennsylvania in 2023, DrinkPAK will be among the largest beverage manufacturers in North America.
"DrinkPAK is on its way to becoming a major employer in the Santa Clarita Valley and we look forward to their continued growth and success," Holly Schroeder, President & CEO of the Santa Clarita Economic Development Corporation commented.
Nate Patena, CEO of DrinkPAK stated, "We are thrilled to deepen our roots in Santa Clarita in order to meet our customer's unprecedented demand for beverage production and distribution services, and we are grateful for the ongoing support of Holly Schroeder and the Santa Clarita Valley Economic Development Corporation, the City of Santa Clarita, and Los Angeles County helping to expedite a complex permitting process for our facility."
DrinkPAK will create three beverage packaging lines capable of producing up to 4,900 cans per minute over a campus now reaching Building 2, 3 and 4 at the Center at Needham Ranch. At full operation, DrinkPAK intends to employ some 200 employees at the new facility, with the goal of producing 2.1 billion cans of product annually.
CBRE's Craig Peters, Cameron Merrill and Doug Sonderegger represented TCC and Clarion in the transaction, while Newmark Group's Patrick DuRoss, John DeGrinis and Jeff Abraham represented the tenant.
"We are excited to accommodate DrinkPAK's additional space requirements in the Center at Needham Ranch. This is one of the largest food and beverage industry expansion projects across the Southern California region in recent memory and DrinkPAK recognized the competitive advantages of our development's strategic location, high-quality, state-of-the-art buildings, and the significant advantage provided by the business-friendly City of Santa Clarita, which affords companies like DrinkPAK with a lower cost of doing business and significant support in expediting a multitude of permits and approvals from multiple jurisdictions for a very complex plant build out," commented John Balestra, Principal with TCC's SoCal – Los Angeles Business Unit.
The Santa Clarita Valley Economic Development Corporation (SCVEDC) is a unique private / public partnership representing the united effort of regional industry and government leaders. The SCVEDC utilizes an integrated approach to attracting, retaining and expanding a diversity of businesses in the Santa Clarita Valley, especially those in key industry clusters, by offering competitive business services and other resources.