The SCVEDC would like to acknowledge seven local employers AMS Fulfillment, CSI Services, Inc., Lief Labs, LIFT innovate, Medical Breakthrough®, Medical Technology Solutions, LLC, and TLK Fusion Inc. on making it onto this year's list for the fastest-growing companies in the US!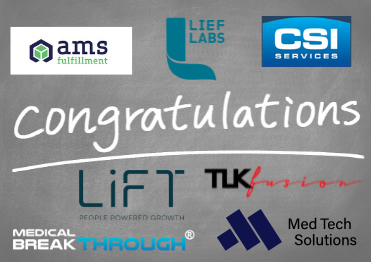 Achieving a ranking on this list is impressive in its own right, regardless of the year. These businesses have continued to find innovative ways to be successful, growing rapidly despite the difficulties from the pandemic. This year's list is a testament to the flexibility and hard work of these local companies, and is even more impressive given the ongoing complexities presented during 2020.
The prestigious Inc. 5000 list, produced every year since 1982, analyzes company data to recognize the fastest-growing privately held businesses in the United States. The global recognition that comes with inclusion in the 5000 gives the founders of the best businesses an opportunity to engage with an exclusive community of their peers and the credibility that helps them drive sales and recruit talent.
Companies for this years Inc. 5000 received a ranking according to their percentage revenue growth from 2017 to 2020. Complete results of the Inc. 5000, including company profiles and an interactive database that can be sorted by industry, region, and other criteria, can be found at www.inc.com/inc5000.
Detailed List of Santa Clarita Honorees
AMS Fulfillment is a multi-channel, high-volume shipping and scalability 3rd party fulfillment services company. They currently serve over 80 clients across a wide spectrum of industries, with bi-coastal operations both here and on the East coast.
Like most companies during the pandemic, there was definitely uncertainty at the beginning. What would the impact be on workload? How will day to day operations shift due to social distancing requirements? In what ways can they pivot to meet clients needs and still create a safe work environment for employees?
CEO Jay Catlin explained how AMS has maintained a steady workflow while making concerted efforts to engage their clients as well as employees. He described how they had to get creative to keep up with the increasing demand from ecommerce and still keep employee safety and health a top priority. They created customized social distancing dividers, actively addressed their employees needs and concerns, and made sure everyone had what they needed to succeed. And they have most definitely succeeded. While other businesses were slowing down, AMS became busier. When other employers were forced to do layoffs, they continued to hire new employees in large quantities.
AMS Fulfillment was proud to be included in the prestigious Inc. 5000 List in 2012, ranking 1051, and are even more proud to be included in 2021, ranking 2625. They've grown while successfully serving clients and protecting employees during a time period that has challenged the entire industry. As a Full Service Fulfillment Services company, their teams are managing a very complex and intense business. Fulfillment has evolved immensely and rapidly in terms of client demand, technical capabilities, shipping requirements, employee acquisition, employee safety and retention, and so much more.
Not to mention that as a B Corporation, AMS' growth demonstrates that being "Good for the World" can also be a successful business model.
Curious what a B Corporation is? Read more >>>
CSI Services, Inc. is a relatively unique professional inspection firm that is focused on maintaining public and private infrastructure by preventing corrosion (rust). The firm routinely supports projects in the water, wastewater, power, transportation, defense, and amusement park industries. The majority of these assignments are in Southern California, but recent projects include work in Japan, Guam, Wake Island, Hawaii, and Europe. CSI always feels thrilled to work on bridges, treatment plants, elevated water tanks, hydroelectric dams, 1250 foot tall radio towers, and underground tunnels; but they are most proud of their ability to provide their expertise to cost-effectively maintain the infrastructure in their local community, the Santa Clarita Valley.
Lief Labs is a premier formulation and product development innovator and manufacturer of dietary supplements. Their in-house Product Development and R&D team creates the best tasting and most cutting-edge formulations of supplements. Lief also houses a 200,000 sq ft full-service, brand-new, state-of-the-art, Current Good Manufacturing Practice (cGMP) manufacturing facility, which offers custom solutions for a multitude of supplement categories. Lief collaborates with entrepreneurial firms to help them build premier brands. Their turnkey solutions allow them to engage in seamless partnerships that help brands with scalability and sustainable growth. Lief hosts the Beyond the Supps podcast which covers a wide range of topics such as entrepreneurship, social media, quality control, health & wellness, and the impact the dietary supplement industry has worldwide. The company is based in Valencia, CA. To learn more, please visit www.lieflabs.com.
"Lief is incredibly proud to be included for the sixth time in the Inc. 5000 ranking among America's most successful independent businesses," said Adel Villalobos, CEO & Founder of Lief Labs. "Lief's continued recognition on this list is a validation of the dedication and efforts of our entire team, which has proven to be particularly resilient in continuing to grow our business while maintaining our high quality standards and client service excellence through the unforeseen challenges of 2020."
Mission
To bridge the gap between the world's best technologies and the people that use them.
Vision
Strive to delight customers and partners by changing the way they view work, one innovative idea, service, and solution at a time.
Since it's inception in 2014, LIFT has continually contributed to the development of the rapidly evolving customer success discipline. The LIFT team has trained 500+ partner organizations and over 2,500 individuals, and delivered customer success programs for more than 75 organizations globally. Leveraging it's deep experience in global technology, B2B selling and change management consulting, they work with OEMs, channel partners and end users to deliver a superior approach to customer success enablement, adoption, and the end-user experience. Committed to the best practices we promote; LIFT provides both virtualized and physical delivery options.
Medical Breakthrough is a leading name in premium pain relieving products. After spending over 30 years with doctors, pain specialists, chiropractors, and masseuses, they have seen patients suffer from all kinds of pain. Minor shoulder pain, severe lower back pain, intense migraines and headaches, pain that spreads throughout the entire body, there isn't much they haven't seen. They figured there has to be something that provides comfort and healing to people who experience day-to-day pain. After discovering there were no products that fit their vision and the needs of patients, they decided it was time to make their own. So, they spent the last 14 years developing products, from massage chairs to saunas and beds, that could help soothe stubborn pains and begin to heal the body.
MB are the direct manufacturer of the chairs they sell, and their Medical Breakthrough massage chairs can work to help eliminate the pain in your body and solve many of the problems we all face as we get older. They believe everyone deserves good health, and their chairs tap the power of massage therapy to help support you in your effort to live a life that's unburdened by stress and illness.
Med Tech Solutions (MTS) creates technology systems that work the way healthcare practices work. Their Practice-Centered CareTM services use dedicated IT Care Teams to ensure technology systems support essential clinical workflows and strategic business plans. Provider organizations and networks can count on a secure, reliable IT infrastructure, optimized clinical and business applications, and full end-user support so they can focus on patient care.
MTS was founded in 2006 in Valencia, California, and serves thousands of healthcare practices nationwide. The company has been recognized as a six-time Inc. 5000 Fastest Growing Private Company and a Channel Futures MSP 501 provider, and it has achieved HITRUST Common Security Framework (CSF) certification for its cloud platform. They are headquartered in Valencia, California, and have regional offices in St, Louis, Missouri, Minneapolis, Minnesota, and Morristown, New Jersey, with a dedicated workforce throughout the United States. Learn more at www.medtechsolutions.com.
TLK Fusion is an innovative, fast-paced, pop culture, Hollywood marketing firm in Valencia. Established in 2009 by successful entrepreneur, Ken Collis, TLK Fusion boasts not only an A-list roster of celebrity talent, but also has an aggressive footprint in digital marketing and distribution into retail markets. TLK Fusion's unique out-of-the-box thinking and 360-degree service mix have proven successful throughout the past decade. As the recipient of many accolades and awards that include multiple Best in Biz Awards, The Rolling Stone Magazine Impact Award, the notorious Golden Bridge Award, a coveted Stevie Award, multiple Clutch Awards, and recently the 2019 Entrepreneur 360 Award for the second year in a row.
"We are honored to be named on the Inc. 5000 fastest-growing private companies list for a second consecutive year, especially during a year that many businesses faced a multitude of hardships," says Ken Collis, CEO and Founder of TLK Fusion Inc. "At TLK Fusion we believe our growth directly impacts our clients' growth, receiving this honor from Inc., as one of the nation's fastest-growing companies, shows we are the right agency to help our clients grow their digital presence and business."
The SCVEDC applauds these companies for their success, and looks forward to seeing them and other Santa Clarita employers on next years list!
The Santa Clarita Valley Economic Development Corporation (SCVEDC) is a unique private / public partnership representing the united effort of regional industry and government leaders. The SCVEDC utilizes an integrated approach to attracting, retaining and expanding a diversity of businesses in the Santa Clarita Valley, especially those in key industry clusters, by offering competitive business services and other resources.