Interest in SCV Climbs as New Development Projects Near Completion
As the occupancy rate in Los Angeles and the San Fernando Valley reaches capacity, the search for industrial space can become a challenge. Have you checked out the Santa Clarita Valley? The Santa Clarita Valley (SCV) features nearly 30M SF of industrial and commercial facilities today, with approximately 8M SF of future land development already approved. The SCV is a terrific option for if you're considering business relocation in Los Angeles or the San Fernando Valley. Learn more at scvmeansbusiness.com!
As highlighted during the 2017 SCV Economic Outlook by Mark Schniepp, Director of California Economic Forecast, the Santa Clarita Valley continued to set the pace as one of the strongest industrial markets in Southern California with over 1.6M SF of transactions completed in 2016. Over the past six years, the area has shown strong positive absorption with nearly 11.9M SF of lease and sale transactions consummated.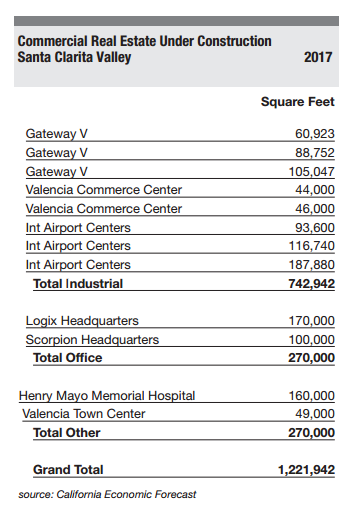 IAC Commerce Center, located adjacent to the Valencia Commerce Center includes gross leasable area (GLA) of 1.3M SF with building occupancy commencing in Q3 of 2017


Gateway V, part of the Valencia Commerce Center includes GLA of 625,000 SF, with phase 1 occupancy beginning in Q2 2017


Southern California Innovation Park (SCIP) - (Formerly Mann Biomedical Park) has existing GLA of 612,075 SF and is entitled for additional expansion of 900,000 SF! This development is ideally suited for companies in bioscience, medical device and high-tech industries
Needham Ranch will include 4M SF over 145 acres (net), with Phase 1 building occupancy expected in Q4 2018


Vista Canyon, a mixed-use development of 1M SF will include 1,100 residential units, 650,000 SF of office space, 165,000 SF of commercial/retail development, 200 hotel rooms, a metro link and a bus transit facility. Occupancy of Vista Canyon is expected in Q2/Q3 of 2018.
Contact the SCVEDC – if you're looking to relocate, expand or get started, their business services team provides consultation and assessment that is professional, unbiased and confidential, giving you a one-stop resource center to support you through your relocation or expansion journey to the Santa Clarita Valley.
The Santa Clarita Valley Economic Development Corporation (SCVEDC) is a unique private / public partnership representing the united effort of regional industry and government leaders. The SCVEDC utilizes an integrated approach to attracting, retaining and expanding a diversity of businesses in the Santa Clarita Valley, especially those in key industry clusters, by offering competitive business services and other resources.