Santa Clarita Valley – A Great Location for Business

The Santa Clarita Valley is booming! The economic growth observed in recent years is expected to continue. Santa Clarita is a cost-effective and easier alternative to other business centers in Los Angeles County. There are many factors that make the Santa Clarita Valley (SCV) a great place to do business.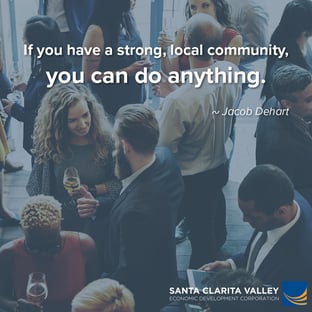 In the Santa Clarita Valley there are five major industry clusters: Aerospace and Defense, Medical Devices, Advanced Manufacturing, Digital Media and Entertainment, and Information Technology. Clusters of interconnected businesses fuels competition in the local economy. While it may seem counterintuitive to encourage many of the same types of businesses to cluster in the same region, competition is good for consumers by lowering prices, and it is good for businesses because it encourages innovation and creates positive economic growth.
The Santa Clarita Valley has more space for businesses to grow than locations in the San Fernando Valley and Los Angeles Basin. There are nearly 30M SF of industrial and commercial facilities in the SCV and another 8M SF of future land development is approved. Existing business parks include the Valencia Industrial Center, Valencia Commerce Center, and Center Pointe. Santa Clarita Is also home to specialized, state-of-the-art facilities such as the Southern California Innovation Business Park which is well suited for companies in bioscience, medical devices, or other high tech industries.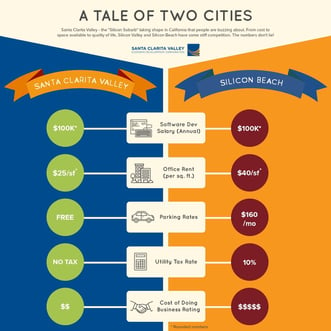 There are several cost advantages to doing business in the Santa Clarita Valley. Santa Clarita has lower business tax rates and fewer utility user taxes than nearby Los Angeles, Palmdale, Pasadena, and San Fernando. Lower taxes are just one example of the City of Santa Clarita's pro-business attitude.
The Santa Clarita Valley Economic Development Corporation (SCVEDC) helps Santa Clarita businesses access local, state, and federal incentives. Our team helps businesses navigate the regulatory and administrative hurdles required to apply to all available programs. See our Incentive Programs page for more info about incentive programs and resources available to Santa Clarita Businesses.
Santa Clarita's educated workforce is another reason the SCV is such a great place to do business. Santa Clarita boasts many exceptional choices for elementary, middle school, high school, and higher education. There are three colleges in the Santa Clarita Valley, California Institute of the Arts, College of the Canyons, and The Master's University. The SCV is also within 45 minutes of 12 other large universities in LA County.
A variety of entertaining activities make the Santa Clarita Valley not just a good place for business, but a good place to spend your free time. Numerous outdoor recreation areas including many beautiful parks and trails are sure to satisfy athletes and nature lovers. If you prefer to stay out of the heat there are also many indoor activities including shopping, dining, and cultural activities like live theater and music.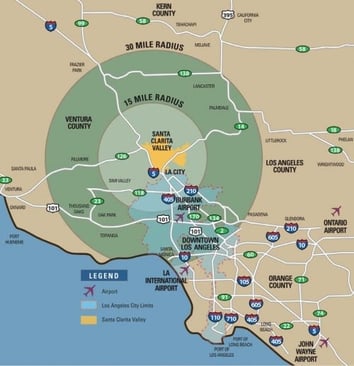 The Santa Clarita Valley's physical location also contributes to it being a great location for businesses. Its location along the I-5 connects the SCV to the ports of Long Beach and Los Angeles, LAX, and Burbank Airport. People commuting into Santa Clarita from the South will enjoy an easy reverse commute and will avoid the worst of rush hour traffic.
If you are wondering if the Santa Clarita Valley could be the right location for your business, contact the SCVEDC – our business services team can help your company hit the ground running, by fostering positive relationships with the city, county, state and federal agencies and officials who are essential to the economic development process, guiding your company through the available incentive and workforce training programs, and connecting you with your peers in your industry cluster. SCVEDC is your one-stop resource for helping your company grow!
Download our Relocation Incentives Guide for information on how your company can save money.
The Santa Clarita Valley Economic Development Corporation (SCVEDC is a unique private / public partnership representing the united effort of regional industry and government leaders. The SCVEDC utilizes an integrated approach to attracting, retaining and expanding a diversity of businesses in the Santa Clarita Valley, especially those in key industry clusters, by offering competitive business services and other resources.