Laemmle Theater Breaks Ground in Old Town Newhall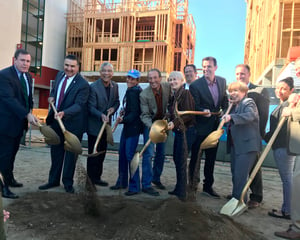 Laemmle Newhall 7 celebrated its groundbreaking in Old Town Newhall yesterday. Part of the new Newhall Crossings development, the multi-screen, 500 seat, two story arthouse cinema plans to open one year from now.
President of Laemmle Theaters, Greg Laemmle was on hand, along with his wife Tish to accept certificates of recognition from community leaders including the Santa Clarita City Council, Assemblyman Dante Acosta and Senator Scott Wilk. Representatives from Congressman Steve Knight and Supervisor Kathryn Barger were also in attendance to award certificates.
Much progress has already been made on the other parts of the development, including the completion of the five story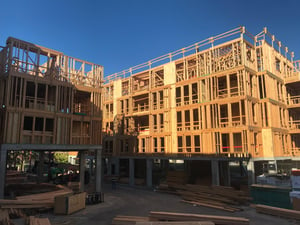 (much needed) parking structure owned by the City of Santa Clarita. The mixed-use building next door is rising quickly, and retail and restaurant leases are already being signed in the hotly anticipated courtyard-style space on the bottom floor.
Many of the speakers expressed their gratitude to the Laemmle organization for choosing Santa Clarita as their next location. "We can't wait for Laemmle Newhall 7 to open," said Mayor Laurene Weste. "And it's within walking distance of my house!" she added.
Senator Scott Wilk joked, "Though our existing local theaters do a great job of showing 'man movies' (Spiderman, Aquaman, Batman), it will be nice to not have to drive so far to see something a little more sophisticated."
The Newhall Crossing development is being built by Serrano Development Group and is part of the City of Santa Clarita's 2020 plan. Old Town Newhall already boasts a beautiful library, two theaters, art galleries, wine tasting rooms, unique retail shops and several chef-driven restaurants. The city's vision for creating a vibrant arts district in Santa Clarita is truly coming to life!
The Santa Clarita Valley Economic Development Corporation (SCVEDC) is a unique private / public partnership representing the united effort of regional industry and government leaders. The SCVEDC utilizes an integrated approach to attracting, retaining and expanding a diversity of businesses in the Santa Clarita Valley, especially those in key industry clusters, by offering competitive business services and other resources.