Leading Aerospace Companies that Call SCV Home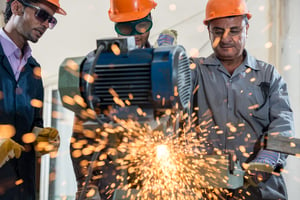 The Santa Clarita Valley (SCV) is within easy reach of Los Angeles: only 30 miles from downtown LA and 7 miles from its northern border. The fastest-growing community in Los Angeles County, the Santa Clarita Valley is home to a population of nearly 300,000 and the third largest city in LA County, the City of Santa Clarita.
This award-winning region is known for its talented workforce, thriving technology sector, top-ranked schools and universities, business-friendly culture, and unrivaled quality of life.
These factors make the Santa Clarita Valley one of Southern California's most desirable communities, with our new commercial developments raising the bar for what's possible. Projected growth will bring significant new jobs to the region along one of the most dynamic growth corridors in California, and offers an excellent location for companies who are ready to expand.
The Santa Clarita Valley is home to a growing cluster of aerospace & defense companies that are leading the way in the discovery and engineering of noteworthy advancements in the field. SCV's high quality of life, strong training infrastructure and talented workforce are just a few factors that make our region an ideal location for aerospace and other advanced manufacturing companies. Let's take a look at just a few of these companies that call SCV home.
Crissair manufactures aircraft fluid control components in their 77,000 SF facility in the Santa Clarita Valley. The company, which moved to the Santa Clarita Valley in 2014 and employs 230 machinists and engineers, makes valves and other components for both military and commercial aircraft.
"Whether it's a fixed wing, a rotary, a commercial or military aircraft, Crissair will have parts on it," says company president Michael Alfred.
.
Crissair utilizes advanced CAD, 3-D modeling and analytical tools and has fully equipped modern test facilities that support a vast assortment of production hardware and new product development. Their product line ranges from valves and actuators to manifolds and pumps.

ITT Aerospace is one of the leading global manufacturers in the aerospace and defense arena. ITT has called the SCV home for over 20 years, and their Valencia location serves as their main hub with about 400 employees. The facility houses research and development, manufacturing, testing, and design, with employees ranging from engineers to design specialists and beyond.
Wesco Aircraft, whose global headquarters is located in the Santa Clarita Valley, is the world's leading independent distributor and provider of comprehensive supply chain management services to the global aerospace industry. With 500 employees, Wesco Aircraft offers a range of products including hardware, chemicals, electronic products, bearings, customer designed products, and tooling.
FMI Aerostructures, a growing SCV aerospace company with over 230 employees, specializes in machining, sheet metal fabrication, structural assembly, tooling and kitting for the aerospace industry.

"We build parts for pretty much everything that flies, all the way from fighter jets to commercial 737s," Steve Wooten, of FMI said. "We support everything that this country involves regarding air superiority."
B&B Manufacturing produces and distributes custom and standard U.S. made synchronous drive products that include timing belt pulleys, roller chain sprockets and related parts for the power transmission and precision mechanical component industries. With 285 SCV employees, B&B Manufacturing were early adopters of Lean Manufacturing Practices. They offer an extensive employee training program to help bring new hires up to speed which ultimately increased revenue as a result of the focus on continuous learning and improvement.
Santa Clarita Valley aerospace manufacturers are supported by the local chapter of the Aerospace & Defense Forum, a global aerospace and defense leadership community of over 2300, providing opportunities for sharing of information, current events, and analysis, mutual support and encouragement, partnering, innovation, and performance breakthroughs.
The Santa Clarita Valley Economic Development Corporation is a unique private / public partnership representing the united effort of regional industry and government leaders. The SCVEDC utilizes an integrated approach to attracting, retaining, and expanding a diversity of businesses in the Santa Clarita Valley, especially those in key industry clusters, by offering competitive business services and other resources. 661.288.4400 | scvedc@scvedc.org