Learn About Careers in Advanced Technology at SCV's National Manufacturing Day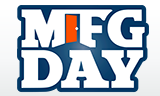 SCVEDC is excited to be once again co-sponsoring National Manufacturing Day. This year's celebration kicks off with a speaker panel and displays on careers in advanced technologies on Thursday, October 4 from 6 – 8 pm at the College of the Canyons (COC). This event, open to the general public, reveals the lucrative and rewarding potential of careers in design, engineering, fabrication, and more and features several SCV advanced manufacturing companies. Admission and parking are free, but reserve seats HERE.
At this event, those interested in obtaining a career in advanced technology will have the opportunity to sit down with representatives from area companies to discuss career paths in manufacturing and advanced technologies. They'll hear a panel presentation (led by James McKinney of Google Startup Grind) of the top skills and characteristics these employers are seeking today, and to experience displays and activities explaining opportunities in design, engineering, fabrication, robotics, and distribution. (Refreshments will be provided.)
Co-sponsors of the event include William S. Hart Union High School District, College of the Canyons, the City of Santa Clarita, SCVEDC, and California Manufacturing Technology Consulting (CMTC). This is the fourth year of joining schools and organizations all across the nation in celebrating National Manufacturing Day. This year, a new, exciting youth perspective is presented by joining forces with S.T.R.E.A.M. Kids Expo™, founded by Saugus High School senior / engineering student Niamani Knight.
"For the past three years I've attended Manufacturing Day and this year I am excited to bring the S.T.R.EA.M. Kids Expo concept of interactive learning to the event. I can't wait for my peers to explore some of the amazing companies I've had the privilege of working with in the areas of Manufacturing and Technology. Kids will not only be blown away by what they see at the event; they will connect the dots of their education to career by having "real deal" conversations with industry experts. With over 200,000 jobs available in the Manufacturing industry, students should know this is a booming career option."
The next day, almost 1000 students from across the Hart School District will travel to COC to enjoy dynamic activities conducted by many SCV advanced technology partners such as Lockheed Martin, PPG Industries, Gantom Lighting & Controls/ZTAG, Advanced Bionics, sPOD (car lights & sounds), CA Highway Patrol Air Operations, LSL Instruments (guitars), Chocolates a la Carte, Schiit Audio, Fralock, Talladium, Air Flow Research, and Remo Drums. Students will meet current robotics competitors, NASA HASP (High Altitude Student Payload), and have hands-on engineering and fabrication activities in COC's FabLab and MakerSpace.
Save your spot today for the Advanced Technology Career Evening Panel Presentation on October 4. Spaces will fill up quickly!
The Santa Clarita Valley Economic Development Corporation (SCVEDC) is a unique private / public partnership representing the united effort of regional industry and government leaders. The SCVEDC utilizes an integrated approach to attracting, retaining and expanding a diversity of businesses in the Santa Clarita Valley, especially those in key industry clusters, by offering competitive business services and other resources.