Minimum Wage Forum August 1, 2018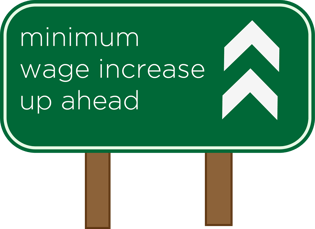 As of July 1, mandated minimum wages in the Santa Clarita Valley will be up to $2.25 per hour higher for businesses west of the 5 Fwy (County of LA) than for those east of the 5 (City of Santa Clarita).
What does this mean for your business?
CLICK HERE to see the Minimum Wage Increase Schedule.
If you are a local business that is feeling the impacts of the minimum wage increases in either the city of Santa Clarita or the County of Los Angeles (or both!) you're invited to join SCVEDC and Poole & Shaffery, LLP for a Minimum Wage Forum.
Ken Wiseman, CEO/Managing Partner of AMS Fulfillment, Steve Wooten, Vice President of FMI Aerostructures, Jay Schutz, Owner/Operator of McDonald's Restaurants of Santa Clarita, and Terri McGraw, Account Manager of Exact Staff, will provide insight on how they are implementing minimum wages increases in their companies. Brian Koegle of Poole & Shaffery, LLP will also provide a minimum wage law update. Jeffrey Forrest of College of the Canyons will share news about their workforce development programs.
Fill out a pre-event survey to receive a discount code for a complimentary ticket.
CLICK HERE to take the survey.
Date: August 1, 2018
Where:

College of the Canyons University Center |

UCEN Room 258