Minimum Wage Increases a Hot Topic at SCV Forum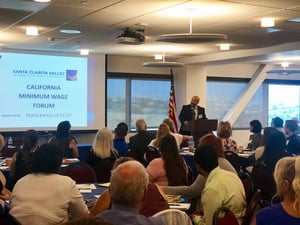 Business leaders and HR professionals from a wide diversity of industry sectors gathered this week for a Minimum Wage Forum sponsored by Poole and Shaffery, LLP and hosted by the Santa Clarita Valley Economic Development Corporation (SCVEDC) at College of the Canyons.
Brian Koegle , Partner at Pool and Shaffery, LLP provided overview of the intricacies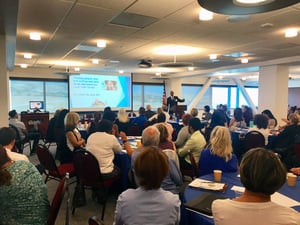 of the minimum wage increases as they relate to employers across the Santa Clarita Valley. He also provided guidance on overtime laws, salaried vs. exempt employees, paid sick leave and independent contractors.
Jeffrey Forrest, VP of Economic and Workforce Development at College of the Canyons encouraged attendees to utilize the many resources provided by the college to local employers to help recruit the right people, retain their talent, and invest in their existing workforce by providing job training, apprenticeships and more.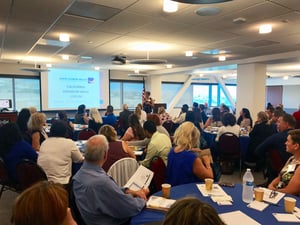 Holly Schroeder, President and CEO of SCVEDC shared the results of a pre-event survey that was compiled into a report released after the event. Over 140 business leaders responded to the poll, providing their thoughts about the minimum wage increases, and what steps their companies are taking to adjust to the new rates.
CLICK HERE to download the full report >>>
The sold-out event also included a panel of speakers. Ken Wiseman, CEO/Managing Partner of AMS Fulfillment, Steve Wooten, Vice President of FMI Aerostructures, Jay Schutz, Owner/Operator of McDonald's Restaurants of Santa Clarita, and Terri McGraw, Account Manager of Exact Staff, discussed how they are implementing minimum wage increases in their companies.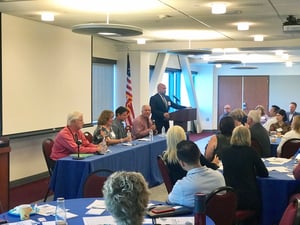 Feedback after the event was overwhelmingly positive with one attendee commenting, "That was a high-quality presentation from Brian Koegle. The panelists were knowledgeable and had points of view that they were willing to share. I learned a lot more than I expected to at an event like this. In terms of program content, this was the best such forum I've been to in quite a while. This was a great way to bring the SCV business community together around a single topic. Kudos!"
Events like these are just one service the SCVEDC provides. Consider us your one-stop resource dedicated to helping your company succeed. Contact us today for more information about our no-cost Business Assistance Program or visit our website for more information. Click the button below to download your copy of the SCV Minimum Wage Forum Report.

The Santa Clarita Valley Economic Development Corporation (SCVEDC);is a unique private / public partnership representing the united effort of regional industry and government leaders. The SCVEDC utilizes an integrated approach to attracting, retaining and expanding a diversity of businesses in the Santa Clarita Valley, especially those in key industry clusters, by offering competitive business services and other resources.