Keeping Your LA County Project On Track Through LA County Connect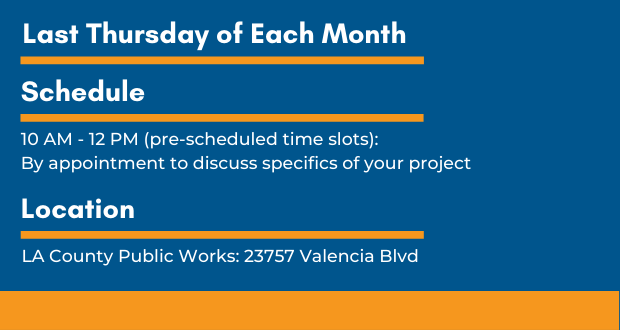 One of the primary keys to a Commercial Development project is staying on track and maintaining the proposed schedule. This can be challenging when navigating the many agencies and departments in Los Angeles County. Now through LA County Connect, Santa Clarita developers and design professionals can receive expert advice and guidance – tailored specifically for Commercial Development projects in Plan Review. Developers can preview plans, discuss process and timing, and get the answers needed from LA County departments in a timely manner!
LA County Connect offers a hub where developers can quickly find answers they need from department specialists, to keep the project consistently moving forward. To schedule an appointment, CLICK HERE.
Schedule a FREE One-on-One Appointment to receive advice and guidance from key department representatives. These One-on-One Appointments are currently being held virtually due to COVID-19:
Facilitate your Commercial Development project through the Plan Review process

For Developers and Design Professionals in the Santa Clarita Valley

Available on the last Thursday of each month, from 10 AM to 12 PM, in pre-scheduled time slots.
Next Scheduled Appointments in 2021 – last Thursday of each month:
This special opportunity is being provided by the Los Angeles County Fire Department, Regional Planning, Public Health and Public Works in partnership with Los Angeles County Supervisor Kathryn Barger, Fifth District and the Santa Clarita Valley Economic Development Corporation (SCVEDC.org).
The Santa Clarita Valley Economic Development Corporation (SCVEDC) is a unique private / public partnership representing the united effort of regional industry and government leaders. SCVEDC utilizes an integrated approach to attracting, retaining and expanding a diversity of businesses in the Santa Clarita Valley, especially those in key industry clusters, by offering competitive business services including workforce development, business research and data, assistance visits, and other resources.