New Resource to Help SCV Employers Find Local Talent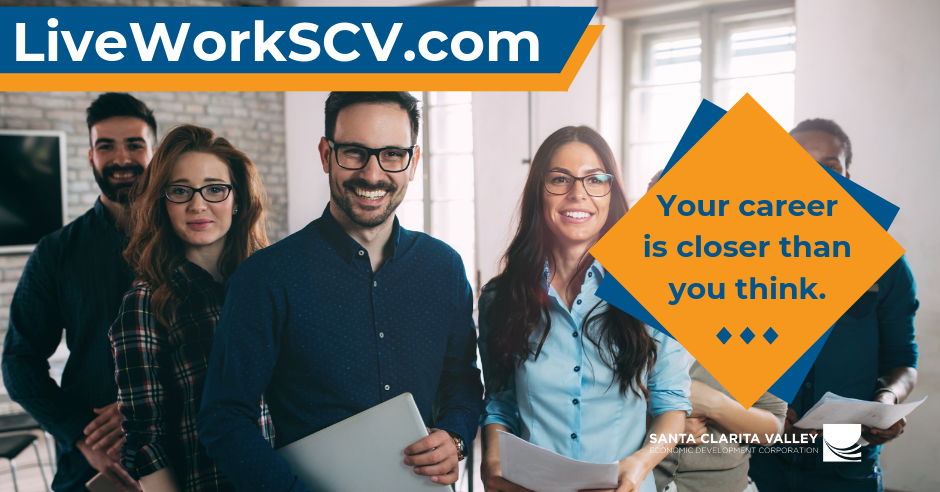 The Santa Clarita Valley (SCV) is home to many top employers in a wide variety of industries like medical devices & biotechnology, aerospace & defense, digital media & entertainment, information technology, and advanced manufacturing. Despite the fact that SCV residents are highly skilled and often experience long commute times, local employers note that they have trouble hiring talent that lives locally, and they frequently have to cast a wide net to fill open positions. We have also found that residents of the Santa Clarita Valley lack awareness of the types of career opportunities that are offered at local companies.

To help address this issue, the Santa Clarita Valley Economic Development Corporation (SCVEDC) is offering a new resource for Santa Clarita Valley companies: LiveWorkSCV.com, a comprehensive, highly visible job board that matches SCV career opportunities with SCV residents who want a job closer to home. Whether you are seeking an entry level employee just starting out, or a corporate manager with decades of experience under their belt, LiveWorkSCV.com will help you find talent right here in the Santa Clarita Valley.


To help us launch the job board, we are offering Santa Clarita Valley businesses this resource at no cost until 2020!
Studies show a strong link between hiring locally and employee retention and employers understand that a big part of job satisfaction is a good work-life balance. Here are a few reasons to seek out SCV's talented local labor pool:


Community Connections
Local applicants likely have local connections and companies, especially those who are growing quickly, can benefit from accessing the network of their local employees when it comes to recruiting and making important connections with the business community. And because people like to work with their friends, one great employee usually leads to another.


Vetting Candidates is Easier
In-person interviews are always better than remote interviews. There is also a higher likelihood that local recruits will have up-to-date references (that you may actually know - or know someone who knows) that are more likely to give you honest feedback about the candidate's job skills and performance.


Shorter Commutes = Happier Employees
Shorter commute times increase personal time, allowing more time for family and friends, hobbies, and relaxation. Employees are more likely to stay at a job, and work more productively in jobs that offer better work/life balance. What's more, employees who work closer to home have fewer absences and are more likely to arrive on time.


RELATED: The Stress Isn't Worth It! 10 Benefits to Working Closer to Home
SCV residents, both job seekers and those who may not be actively looking but would be open to discovering an opportunity to lessen their commute and have a better work/life balance, can receive automatic notification of positions that match their qualifications. They can create a profile on LiveWorkSCV.com and sign up to receive job alerts when you post a position that matches their qualifications.
The Santa Clarita Valley provides the perfect live/work/play environment, and there are many residents who are ready to quit their commute and many companies who want to access local, skilled talent.


Check out www.LiveWorkSCV.com and post your open positions today. Or if you're seeking a career closer to home, you can sign up for job alerts and create a profile that allows you to easily apply for a local opportunity.


If you'd like more information visit LiveWorkSCV.com, contact us at (661) 288-4400 or scvedc@scvedc.org
The Santa Clarita Valley Economic Development Corporation (SCVEDC) is a unique private / public partnership representing the united effort of regional industry and government leaders. The SCVEDC utilizes an integrated approach to attracting, retaining and expanding a diversity of businesses in the Santa Clarita Valley, especially those in key industry clusters, by offering competitive business services and other resources.